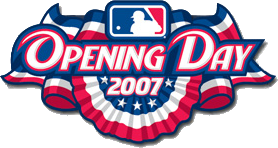 At last my love has come along
My lonely days are over
And life is like a song
At last the skies above are blue
And my heart was wrapped up in clover
The night I looked at you
— Mack Gordon & Harry Warren
I haven't written as much as I would like because I have been consumed by fantasy baseball preparations. Last year was my first year and I had surprisingly good results: I finished in the top three in three rotisserie leagues (first, second, and third) out of four and made it to the semi-finals in a head-to-head league.
This year I started participating in a franchise league that requires managing rosters from Class A all the way to the majors and doing so under a salary cap (which is more than can be said for real-life baseball general managers). It's been engrossing and challenging, but shouldn't detract from my writing here once the season gets underway.
Play ball!