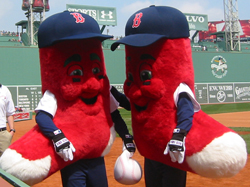 "Lefty & Righty" is a blatant rip-off of respectful homage to the Onion's Point/Counterpoint feature, but new and improved with the inclusion of Red Sox mascots. Today they sound off on the new polyester 59FIFTY caps set to be unveiled this season.
RIGHTY: Bowing down before the gods of political correctness, the MLB, which stands for Milquetoast League of Baseball as far as I am concerned, have done away with the tradition of wool hats and replaced them completely with polyester. I usually allow the shallow and image-driven liberals of this country talk about the latest trends, but this particular change I could not allow to go unnoticed. I'm far from a fashion plate — I'm a walking sock with a hat on, for goodness sake — but ponder for a moment what polyester is made from.
Yes, that bane of fashionistas, that ubiquitous fabric of the sartorially vapid 70s is a petroleum-based vile textile.
The hidden villainy is that these new hats increase America's dependence on foreign oil. I won't bore you with the science of it, but polyester is made from oil by-products.
Our game, already tainted by performance-enhancing drug scandals and juiced or doctored balls, takes another black eye with the promotion of terrorist-funded hats, and those snazzy new artificial bills aren't big enough to conceal that bruise.
I know my colleague met with a bunch of whiny sheep activists and is retelling their tearjerkers. Those sheep are suffering about as much as when a metrosexual gets a pedicure. The sheer arrogance of these ungulates thinking there is a greater destiny than having their fleece crowning America's pastime is distressing.
If wool is not reinstated as the official material of MLB's caps, the terrorists and special interest groups have already won.
LEFTY: You might think that because wool fibers are natural that I would side with Righty. But, I'm here to tell you about the absolutely revolting conditions under which the sheep that produced the wool for the former hats.
These sheep would be rent from their parents and herded to remote farms without access to education or health care. They would live in the stultifying vacancies of pastures dotted in the remotest parts of the country. Their ovine cries of impuissance went unheard day after day, their minds dulled to the point of tedium by the unfulfilling lives they lived.
Would you like it if you were driven into an enclosure for the rest of your life, your body and head shorn at your master's whim for the sake of the accoutrements of a game?
This is the unrelenting horror wool sheep faced.
I interviewed a few sheep who wished to remain anonymous. They are trying to rebuild their lives as best they could even though they had been repeatedly sheared of their dignity at such a young age. Said one doe, "In my dreams, I still hear the bleats of my mother as she cared for me." She hung her head heavily and continued, "But then those dreams turn to nightmares. My mother is drowned out by the sound of metal doors slamming shut and the alarmed baas of the other lambs around me."
The buck next to her comforted his distraught companion by nuzzling her muzzle, which was dampened by her tears. "We're going to try and make a better life together, and give our children the chances that we never had."
For the sake of these lambs, I heartily endorse the MLB's decision to replace wool caps with those made of synthetic fibers.