Before Ichiro Suzuki and Daisuke Matsuzaka, before Hideo Nomo, even before Lenn Sakata, there was Kenichi Zenimura, a shortstop known as the Dean of Japanese American Baseball.
Executive Order 9066 authorized by Franklin D. Roosevelt allowed for the forced removal of approximately 120,000 people of Japanese ancestry from the West Coast. Around 62% of these people were American citizens. More than half were children or infants. While 10,000 were allowed to relocate, the remainder were sent to ten different War Relocation Camps scattered across Arizona, Arkansas, California, Colorado, Idaho, Utah, and Wyoming.
The great majority of these people were considered potentially disloyal to America only because of their ethnic heritage. Zenimura, along with his family, were among the internees.
So, what did these families and their children do, thousands of miles away from home, dispossessed of their former lives and liberty? They pursued happiness as best they could: going to school, creating art, having dances, and playing baseball.
To relieve the monotony and desperation of camp life, Zenimura had baseball stadia built and organized a 32-team league. The competition was so fierce and play so compelling, inhabitants of the towns came to watch their neighbors' games.
If that were the only thing Zenimura had done in his life it would have been enough for everlasting recognition. But he had also founded a Japanese-American league in the 20s. The shortstop was so renown he was invited to play in the previously segregated Fresno Twilight League. When Babe Ruth and Lou Gehrig barnstormed Fresno in 1927, he was invited to play against these titans of baseball.
Kerry Yo Nakagawa established the Nisei Baseball Research Foundation to memorialize Zenimura and other baseball players of Japanese descent. "Nisei" means "second generation," children of first group of Japanese immigrants to the US. This past year Zenimura was also inducted into the Baseball Reliquary, an organization dedicated to honoring American culture through baseball history, along with Josh Gibson and Fernando Valenzuela.
Where I merely sketch a thumbnail, Don Malcolm's "In Praise of Otherness" and Mikey Hirano Culross's "They Led by Being" paint a canvas of the barriers society builds and baseball breaks down.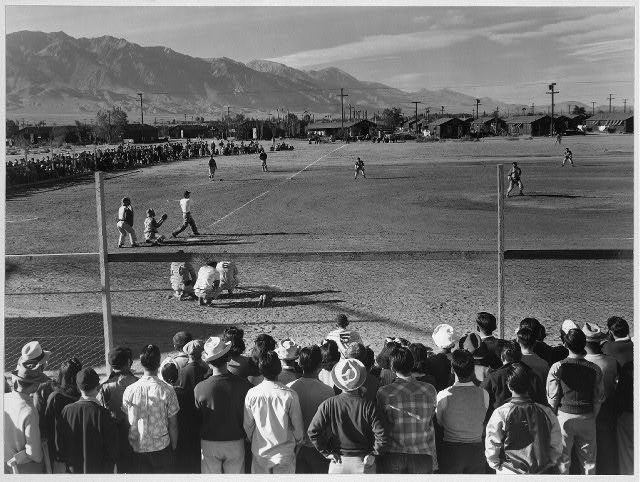 Baseball game, Manzanar Relocation Center, California by Ansel Adams.
Photo courtesy of the Library of Congress.