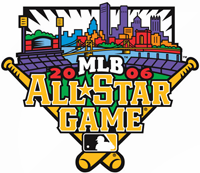 77th Annual All-Star Game: July 11, 2006
American League (35-40-2), 3
National League (40-35-2), 2
W: B.J. Ryan
S: Mariano Rivera
H: Brian Fuentes
H: Derrick Turnbow
H: Tom Gordon
BS, L: Trevor Hoffman
Ted Williams Award for Most Valuable Player: Michael Young

Rather than a blowout or a duel between just two pitchers, this year's Midsummer Classic was a multiple pitcher mêlée. Brad Penny pushed Fox's mile-per-hour graphic into overdrive. Knowing that he would pitch at most two innings, Penny cajoled the radar gun in excess of 95 MPH on nearly every pitch, topping out at 99. Penny matched Pedro Martinez's 1999 showing by striking out the side, but did not surpass Martinez, who had struck out four sluggers in a row.
Thankfully, Fox did away with the Red Carpet Show, probably because media whore nonpareil Johnny Damon was not selected as an All-Star. This year there seemed to be a changing of the guard. The camera panned across the lines of the reserves and the fresh faces Grady Sizemore, Dan Uggla, Joe Mauer, Francisco Liriano, and Ryan Howard shone, so much so I wondered if any of them actually need to shave.
Despite being 315 miles away, in a different league, and 46 years removed from their last World Series, hatred for the Yankees still thrives in Pittsburgh. Derek Jeter, Alex Rodriguez, and even Robinson Cano were booed, listed in descending order of jeer lustiness. Only Mariano Rivera received a smattering of applause out of respect for his greatness.
One of the least deserving Hall of Famers, Bill Mazeroski (.260 BA, .299 OBP, .367 slugging, 2,016 hits, 138 homers, but with eight Gold Gloves and seven All-Star appearances), threw out the first pitch of the game. Then again, if only for his walk-off wallop in the seventh game of the 1960 World Series against the Yankees, however, perhaps he does deserve a space on those hallowed halls.
PNC Park is a gorgeous arena, seeped in tradition despite its newness. One can envision Roberto Clemente casting a ball to home to gun out a runner with the yellow bridge that bears his name as a backdrop. You can almost hear the strains of "We Are Family" when your eyes peruse the home dugout roof. And on All-Star Game night, you could watch some of the greatest in the game play, as well as Mark Redman.
The teams traded roundtrippers in the second inning with Vladimir Guerrero and David Wright making the only souvenirs of the evening. Speed mavens from the NL tried to break the tie, but Alfonso Soriano, running through a stop sign, was thrown out at home by Vernon Wells in the third inning. The play at home allowed Carlos Beltran, who reached on a single to center field, to advance to second. The wheels of Beltran Industries turned as he stole second and scored on a wild pitch by Roy Halladay to manufacture a run.
It was in this splendid stadium that the AL came back in the ninth inning on Michael Young's two-run triple. Just a mere strike away and the NL would have broken the junior circuit's three-year run, or eight-year streak, if you don't count the 2002 tie. Young's team may not enjoy the fruit of his labor, but another front-running AL team will.