Game 93: July 19, 2006
Royals (32-62), 0
Red Sox (57-36), 1
L: Mark Redman (6-5)
W: Josh Beckett (12-5)
S: Jonathan Papelbon (29)
As was the case yesterday, there were more happenings behind the scenes rather than between the chalk lines:
Josh Beckett signed a three-year contract extension worth $30 million. The club has an option for the fourth year that automatically kicks in should Beckett make 28 starts in 2009 or 56 starts in 2008 and 2009. Judging by the offseason deals inked by A.J. Burnett (five years, $55 million) and Kevin Millwood (four years, $48 million), Beckett could have held out for more money. I'm sure seeing the commitment the front office has to keeping the team in contention, so unlike his previous team, helped Beckett to realize that the extra few million isn't worth giving up a spot in a pitching staff that includes Craig Hansen, Jon Lester, and Jonathan Papelbon.
Tim Wakefield has a stress fracture to his rib cage. He was placed on the disabled list retroactive to July 18th. Such fractures do typically present as back pain. The MRI taken on July 7th in Chicago was of his spine. Had it focused on other anatomy, the rib fracture definitely could have been diagnosed earlier as MRI is able to detect such injuries better than x-rays. With Wakefield being out for the next three to four weeks, lefty Kason Gabbard was given the nod to join the 25-man roster. The 24-year old made his Triple-A debut barely a month ago.
In a case of perfect timing, David Wells threw a successful simulated game. The lefty could return to the mound for another simulated game in Seattle or Pawtucket later this week.
For the second game in a row a Red Sox stater was able to pitch for eight innings. Beckett didn't walk a batter and had seven strikeouts in his four-hit outing. Jonathan Papelbon captured yet another save; his mark of 29 leads the majors.
Manny Ramirez was brilliant with his fourth-inning home run and fifth-inning defensive exploit yesterday. After nearly two weeks without a roundtripper, the left fielder blasted All-Star Mark Redman's tater into the seats on the wall.
In just ten days, 17 players and executives from the Negro league and pre-Negro leagues will be inducted into the Hall of Fame. One player not counted among that number is John Jordan "Buck" O'Neil. As player-manager of the Kansas City Monarchs, O'Neil sent more players to the majors than any other. He was the first baseman for the dominant Monarchs during their five-year pennant streak. Off the field, he served in the Navy during World War II and was the first African-American scout for the majors. But O'Neil won't take his rightful place in Cooperstown this time around, he is the chairman of the Negro League Baseball Museum in Kansas City.
O'Neil was given proper recognition yesterday in the independent Northern League All-Star Game. The Kansas City T-Bones signed O'Neil to a one-day contract, making the 94-year-old the oldest professional player. He was intentionally walked to make his at bat official. Walk on, Mr. O'Neil. U2 originally dedicated "Walk On" to Daw Aung San Suu Kyi, but the words apply to all those who have stood against oppression.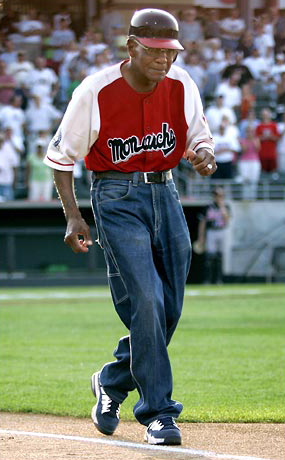 You're packing a suitcase for a place
None of us has been
A place that has to be believed
To be seen
You could have flown away
A singing bird
In an open cage
Who will only fly
Only fly for freedom
Walk on
Walk on
What you got
You can't deny it
Can't sell it or buy it
Photo courtesy AP