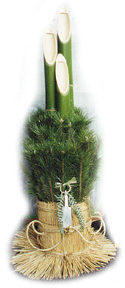 I've unearthed new content to spiff up the Quotable page: baseball terms from The New Dickson Baseball Dictionary. The book is a time capsule of evocative phrases from the days of nickel sodas, but does shy away from modern jargon and controversy. Under the entry for "juice," for example, there is no mention of steroids. You won't find an entry for "greenie," either.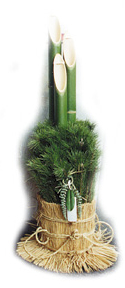 There's also a television section on my About page now. I'd be lying if I didn't admit that I watch way too much of it.
Happy New Year, to those that celebrate it according to the lunar calendar. Although most of Japan switched over to the Gregorian calendar with the Meiji Restoration, folks in the rural areas, like my great-grandparents, followed the lunar calendar. When they came to Hawai'i, they brought this tradition with them. Pictured here are kadomatsu, which are placed on either side of doorways. The pine represents longevity and the bamboo symbolizes health. The kadomatsu are designed to shelter kami (spirits), who will then bring wellness to those in abodes so adorned.