Perhaps I'm overreacting, but I don't think RSS should be used to advertise products. I am committed to keeping my site ad-free. What do you folks think about this? Here's the e-mail I sent to mlb.com: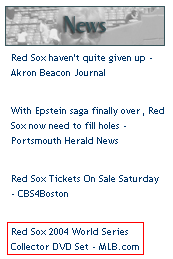 To whom it may concern:
I have an RSS news ticker on my blog that is derived from a Google search of RSS feeds for "red sox." Today I noticed that an ad for 2004 Red Sox DVD Set appeared on my site. I am extremely alarmed that mlb.com is now using RSS as a way to promote its goods and services. Here is the link.
By choice, I have kept my site ad-free. It appears that mlb.com is taking advantage of technology to insert itself as a commercial presence through a typically non-commercial medium. I believe I do enough to promote the league by owning a site that encourages discussion about baseball and I highly resent that MLB would take advantage of RSS for advertising purposes. I have rejected other advertisers who would pay for that space.
Best Regards,
Joanna Hicks
www.empyrealenvirons.com
January 30, 6:30 PM Update: I thought the service that provides my ticker may have slipped in an ad, but I did a search of RSS feeds through Google News and the DVD set is appearing as a news item. I am sure this goes against the Google News philsophy, which you can read at this link. I found a method to get in touch with Google News through this feedback form. If you would like to take a stand against advertisements via RSS as I do, please do drop them a line. I recommend including a link that shows the current results of a search for "red sox" on Google News showing the results below.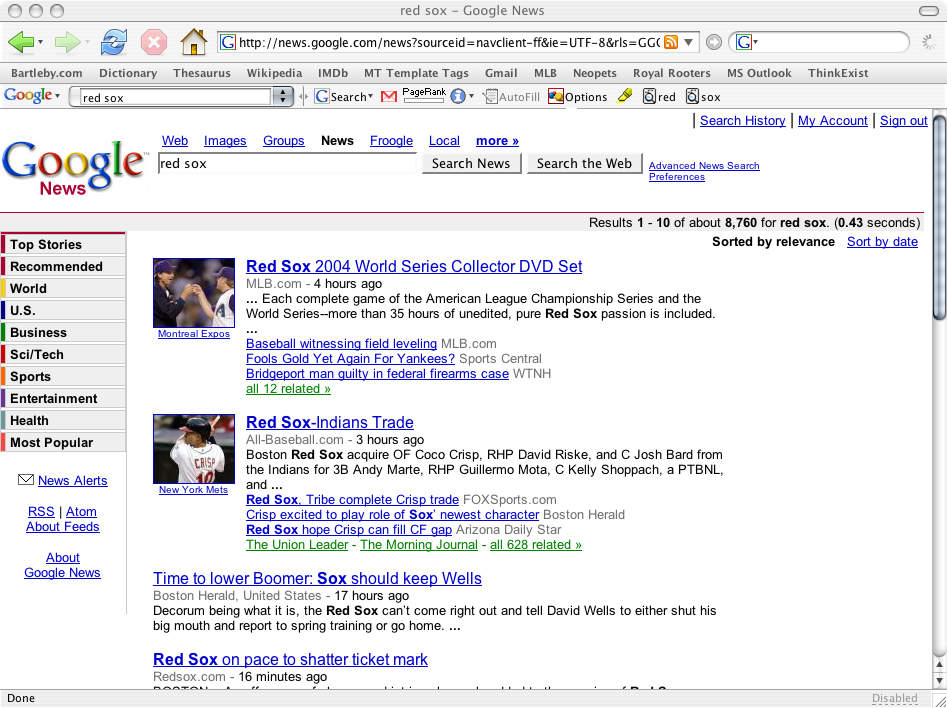 January 31, 9:10 AM Update: I corresponded with Dave Winer, the pioneering software engineer and leading contributor to RSS 2.0. He stated that this is actually a common use of RSS and not one that he endorses. Since this is my first encounter with such a feed item, I was taken aback. I'm taking steps to ensure that no further advertisements without my consent appear here.