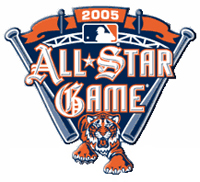 76th Annual All-Star Game: July 12, 2005
National League (41-34-2), 5
American League (34-41-2), 7
L: John Smoltz
W: Mark Buehrle
S: Mariano Rivera
Ted Williams Award for Most Valuable Player: Miguel Tejada

This year saw the debut of the Red Carpet Show, an incredibly stupid idea whose time should never have come. Yet it did, and may Ted Williams smite all those who had a hand in its genesis. He said, "I've found that you don't need to wear a necktie if you can hit." There's a great picture of him with his finger lodged between his shirt collar and neck, looking conspicuously uncomfortable. I can't imagine what he would think of this generation of glitterati players.
Another awkward moment featuring the clash between celebrities of various stripes had David Boreanaz, an actor pimping his Fox show, pretending he was a baseball fan. He called Rivera "Riviera." Just about as convincing as he was playing a good vampire in "Angel," which is to say, not very. (Actually, his utter lack of baseball knowledge is a Yankee fan prerequisite. In that case, kudos to Boreanaz.)

Billy Bob Thornton's introductory narrative had me convinced that the All-Star game was birthed by the American auto industry and midwifed by movie remakes. They should have added poetry slam style lilting intonation to complete the desecration. The players entering through fireworks and smoke down a ramp added just the right touch of lurid ostentation, if the effect desired was WWE Smackdown, circa 1998.
Speaking of smackings down, there was no need for a fake handshake between Alex Rodriguez and Jason Varitek because the later was in the bullpen helping to warm up Buehrle. Also, Joe Buck purposefully paused after he introduced Kenny Rogers, permitting the audience to get their jeers in.
The AL scored first with Tejada's leadoff home run in the 2nd inning. When the NL came to bat the next inning, McCarver mentioned that Abreu "hit a season's worth of home runs in a night." In the former St. Louis catcher's case, you would modify that statement to a little less than half a career's worth of homers in a night.
Until the 7th inning, all the scoring was done by the AL as their relentless lineup built up a 7-run lead. The 3rd inning saw 2 RBIs by Ortiz and Tejada. Ichiro Suzuki plated Varitek and Brian Roberts in the 4th. Mark Teixeira's home run with Alfonso Soriano, last year's All-Star MVP, on base to intoned the death knell for the NL.
Those feisty players from the JV league mounted a minor comeback, scoring 5 runs in the last 3 innings, the most dramatic of which was a 2-run home run by Andruw Jones off Rogers to end the shutout. But it wasn't enough to wrest away the first All-Star game win for Terry Francona, a victory that will hopefully reap dividends for the Red Sox in the postseason.