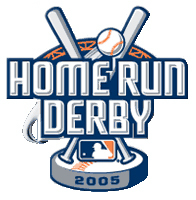 Home Run Derby: July 11, 2005
Bobby Abreu, Venezuela
Jason Bay, Canada
Hee-Seop Choi, South Korea
Andruw Jones, The Netherlands
Carlos Lee, Panama
David Ortiz, Dominican Republic
Ivan Rodriguez, Puerto Rico
Mark Teixeira, United States

After a pathetic performance by a ripoff of a ripoff band which embarrassingly featured one of our own on guest vocals (the ubiquitous Damon, of course), the great international experiment is underway. For the first time, the home run derby participants represent their country of origin.

Abreu was patient, taking pitches until he felt right. The Phillies right fielder's first swing was a home run. He had 9 dingers with 4 out, I thought that he might be wearing himself out. I was completely wrong; his tenth bomb was 517 feet and cleared Comerica Park, if you can believe that. Before his 14th, they started chanted his name. With 15, he tied the record. When he broke it, Miguel Cabrera, Melvin Mora, and other Venezuelans came out to congratulate him. He broke his bat after the 21st home run. Rollins came out with a new bat for him. His round ended with 24 home runs.

During Abreu's stint, Tejada worked on Ortiz, prepping him like it was a prize fight.

Bay tried not to cry when it was his turn. During his at bat he said, "I got nothing." And he literally didn't have anything, blanking at the plate.

Lee, unlike Abreu, hit primarily line drive homers. With 1 out remaining, Lee was able to hit 2 home runs, and totaled 11.

Reggie Jackson is interviewed. My annoyance factor went up, something I didn't think was possible with both Berman and Morgan already pushing my buttons.

After a slow start, Choi finally hit 1 with 6 outs. He finished with 5, his longest 474 feet. Not even an All-Star selection, Choi came to Detroit to represent his country.

Rodriguez, the hometown representative, hit his first home run with 1 out. His son looks a lot like him. I'm most impressed when they can hit a homer on the last out, like how Rodriguez hit his 7th and final home run. His longest was 442 feet.

Sveum pitched to Teixeira, a switch-hitter who chose to hit lefty. A wise choice, as all of his homers this year came from the left side. His first homer came with 5 outs, and he looked out of his element. He made as if to change his bat with 1 out, possibly hoping to change his luck, but it was to no avail. He completed the round with just 2 longballs.

Varitek made a guest appearance, and Berman began to ask the catcher, "How would you pitch Ortiz to get him out?" Even Morgan said, "Nah, you don't want to ask him that." The captain put his fingers to his lips; there would be no way he would compromise Ortiz's potency at the plate. Meanwhile, Tejada brought out the Dominican flag. Varitek spoke glowingly of Ortiz, and also had confidence in Schilling coming out of the bullpen.

I saw Ortiz dominate at a home run derby, but that was at Doubleday Field, which was a mite smaller. It took a while for Ortiz to get warmed up, but when he did, he shrank the field as it were that quaint park in Cooperstown. The 9th home run was caught by a Red Sox fan, appropriately enough. When the 9th out came around, Manny had the Dominican flag in hand and was making the rounds. Papi broke Tejada's record from last year with 17 blasts, and his longest was 483 feet.

Jones was robbed by one of the fielding kids. Other children in the stands risked life and limb to get Jones's 5th and last home run by running out on to a suspended tarp. It's just a ball, kids! Unfortunately, the Jones from the Braves that I do like doesn't make it to the second round.

Abreu, Ortiz, Lee, and Rodriguez continued to the second round.

Berman and Morgan interviewed Bud Selig during Abreu's second at bat. He hyped the World Classic, addressed the Kenny Rogers situation, and reiterated his stance against steroids.
In the second round, we see if the hitters overexerted themselves. Abreu slammed 6, which is just a quarter of what he accomplished in the first round, but his total through just 2 rounds broke Tejada's total for the entire competition last year.
Lee's swings at around the 6th out seemed quite labored, and at that point he only had 4 taters, which was his final total.

Rodriguez just missed a homer that a fan reached over to catch. A beer sacrificed itself for nothing, as it was judged fan interference. I can't bring myself to call him "Pudge," he looks so different. He appeared to be the one participant to pace himself, as he wasn't out of breath at the end of his 8-homer session.

At this point Berman said something about eephus home runs and showed his idiocy.

Morgan said that Ortiz has established himself as the big game hitter. That's like saying that water has established itself as wet or that the sun has been determined to be hot. Sadly, our Red Sox representative came up with only 3 home runs in the second round. He didn't seem particularly tired, but his balls were going towards center right, not the ideal placement at Comerica.

Inhuman, in a word, describes Abreu's final round performance of 11. This meant 41 total longballs for a distance of 17,560 feet, obliterating all previous records. Rodriguez managed 7 homers, but it was not enough to beat the Venezuelan. Absolute Abreu.