Game 89: July 15, 2005
Yankees (47-41), 1
Red Sox (50-39), 17
L: Tim Redding (0-6)
W: David Wells (7-5)
Things not involving actual baseball that deserve mention:
I went to the game with Joe. Joe is eight feet tall. Well, not exactly, but since I'm 5', it certainly seemed so. I felt like I was conversing with his navel.
Joe and I saw Hazel Mae in person before the game. Joe fell in love and I saw living proof that the camera does add weight. She seemed genuinely nice in person, stopping to introduce herself after she heard Joe yell, "Hey, that's Hazel Mae!"
I finally got to see the Red Sox take batting practice. I come two hours early for every game possible and had yet to see them in the cages. Ortiz, of course, put on a show.
Someone in the roof boxes ordered a bag a peanuts from a vendor in the right field box. The seller threw it up to buyer with excellent aim. The buyer wasn't sure how to get the money down, and the vendor said, "Just throw it down." The bill just wafted down right into the vendor's outstretched hand. If I hadn't seen it, I wouldn't have believed it. The crowd in my area cheered vigorously.
There was an insanely entertaining Yankee fan in my section carrying a wad of cash. He wasn't obnoxious, just very vociferous. There was something weirdly endearing about him because, despite his team being down the entire game, he never bowed in the face of adversity, talking smack throughout the game. This is more than you can say for most Yankee fans. You'll see his picture below.
A father with his son and daughter sitting to my left had the chance to see an unbelievable game. The son, the older of the children, was keeping the score. The daughter sat in her father's lap while he explained the finer points of the game to her, such as, since the score was 17-1, it would probably be a lead that even Alan Embree couldn't blow. He told her, "You can tell your grandkids you went to a game where you saw an inside-the-park home run and a grand slam."
Watching the players leave the park and knowing that Trot Nixon drives a Mini. Did he lose a bet or something?
These things and a win alone would have made it a great night. But it was incredible because of:
Trot Nixon's inside-the-park home run in the 2nd inning. The only other time I had heard the crowd be so loud was when Shea Hillenbrand hit a home run off of Mariano Rivera on April 13, 2002, before there were Monster Seats, so his ball sailed into the screen. Gary Sheffield left Melky Cabrera hang out to dry like Lou Piniella does with his pitchers. When Cabrera successfully made the next catch of Kevin Millar's fly ball, we sarcastically cheered.
The implacable David Ortiz. With Jason Varitek, Alex Cora, and Edgar Renteria on base, Ortiz hit a grand slam in to the visitor's bullpen in the 6th inning. I'm more than a little spoiled; this was the third grand slam I've seen this year.
The emergence of Adam Stern. He his first major league hit, a ground ball single to left, in the 8th inning. When he left the park, no one would get his car for him, so he and his girlfriend had to walk to the player's parking lot themselves. Someday soon you'll have more pull, Stern!
Quite simply, one of the best games I have attended in person. I'm interested to see how tomorrow will shape up in comparison.
Also, I figured out how to make the pictures below link to larger versions, so if there's anything you would like to see in greater detail, just click on the picture for a larger version.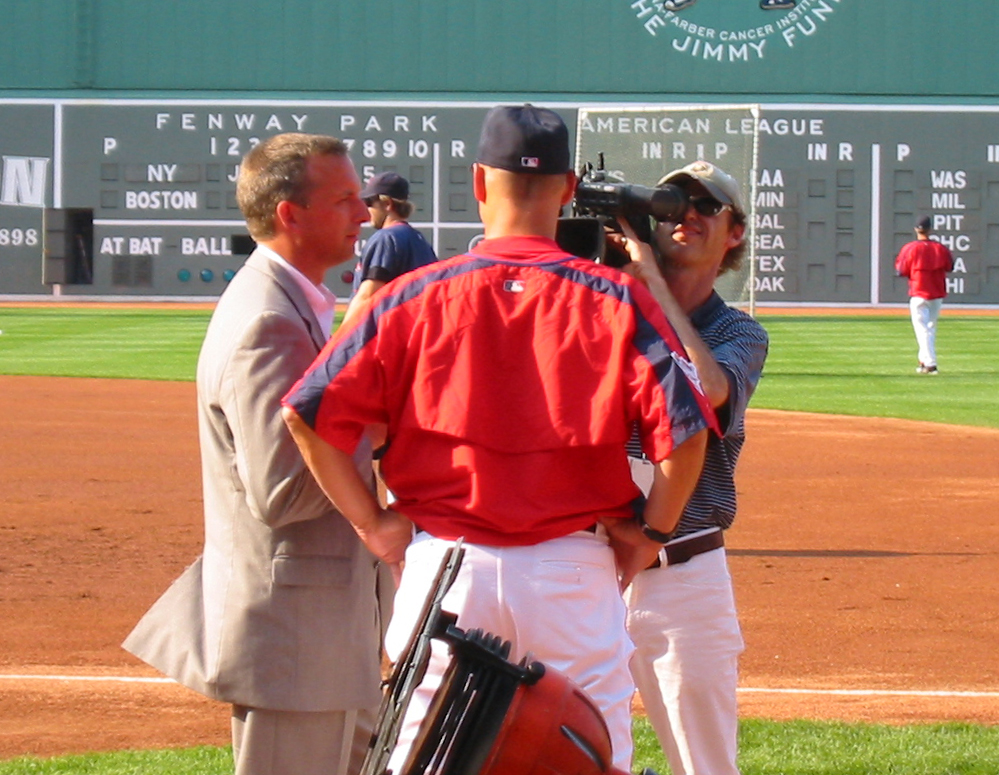 Francona with Eric Frede for the pre-game interview. Francona is probably thinking, "Redding? Oh yeah, we're going to shell this guy."
What he's probably actually saying would be more like, "Ah geez, the Yankees have a tough lineup; it's going to be rough."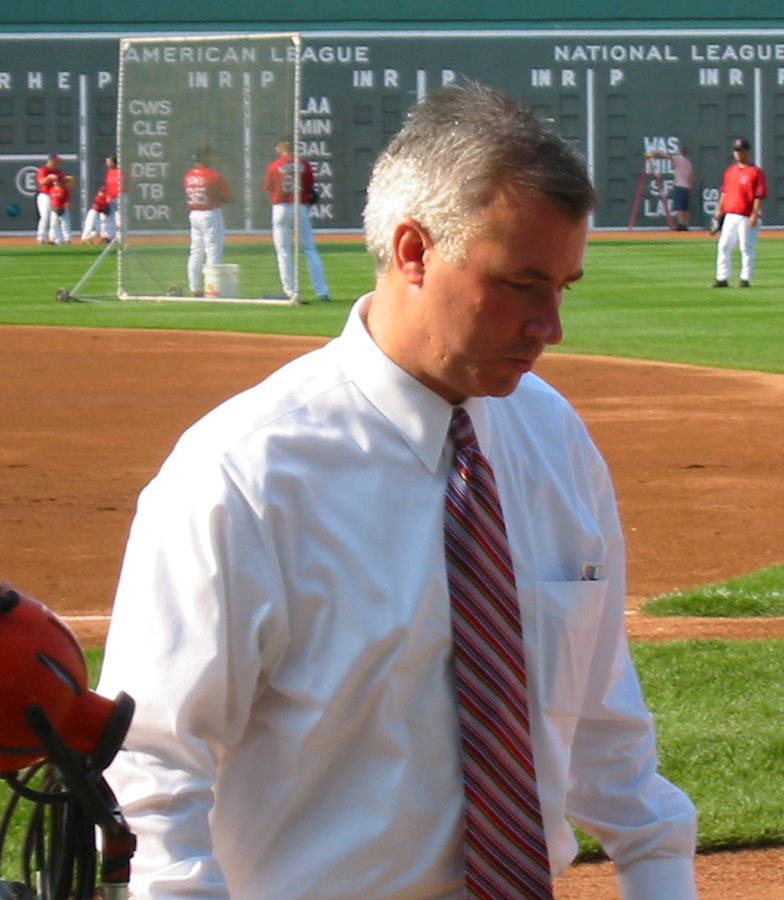 Hey, Dan! I have a joke for you: What did the ocean say to the beach?
Nothing. It could only wave.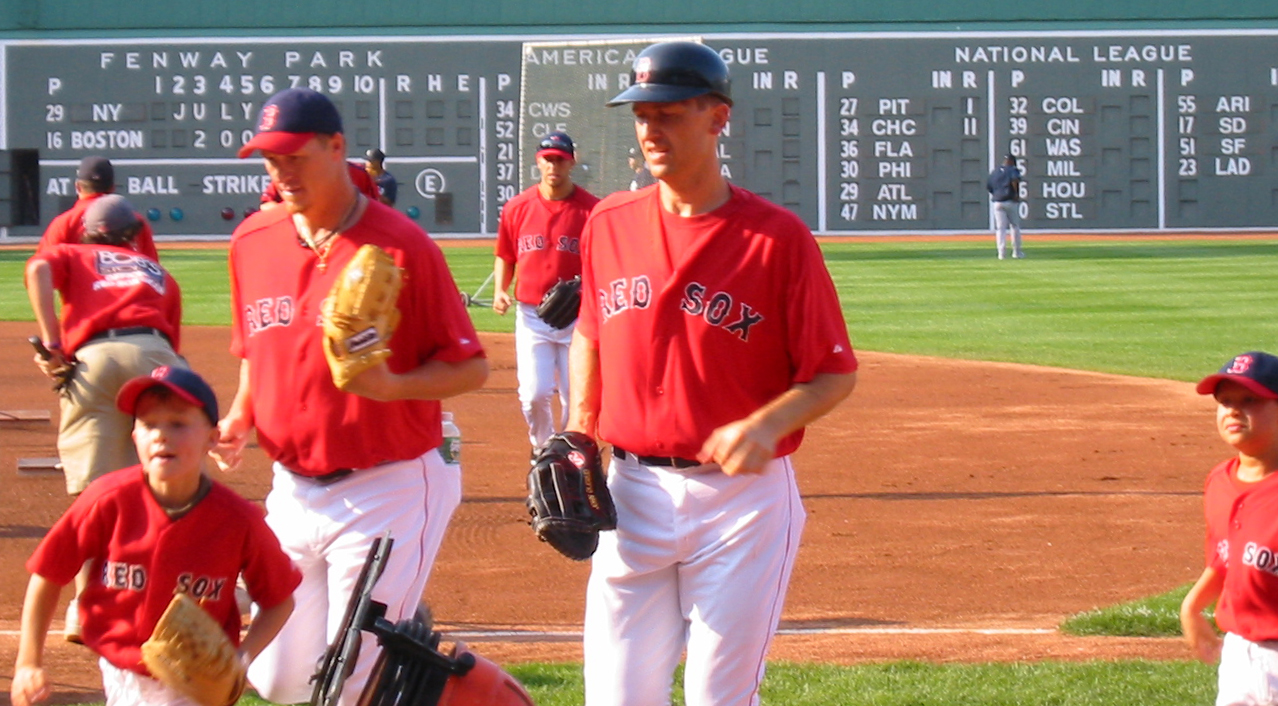 Mike Timlin and John Olerud, probably talking about how being on the Red Sox is more fun than being on the Blue Jays.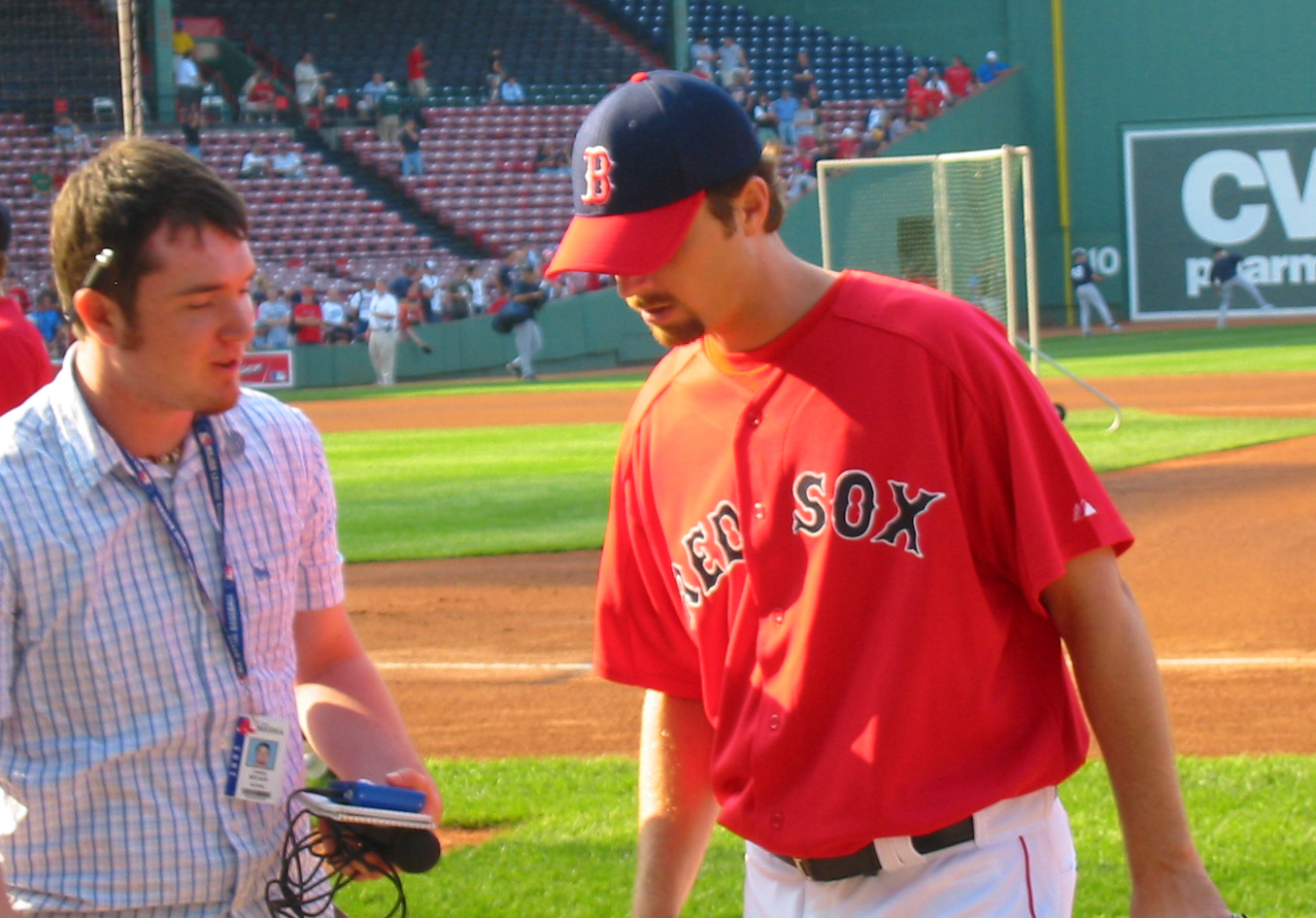 Chad Bradford, whom Joe Morgan wouldn't be familiar with because he has not and never will read that book by Billy Beane.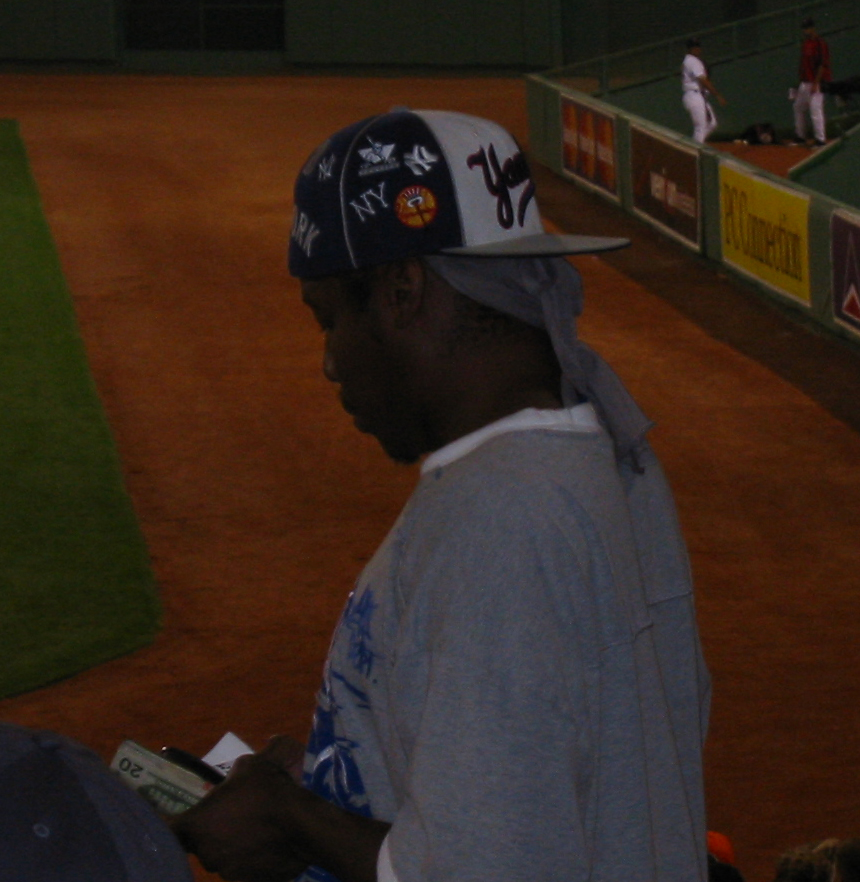 The obstreperous Yankee fan.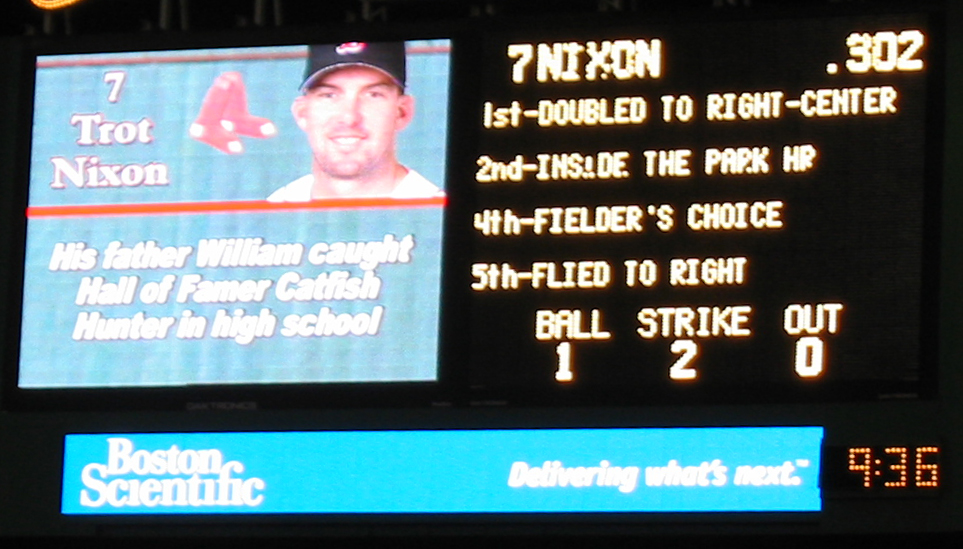 Thank you for letting me see my first inside-the-park home run in person.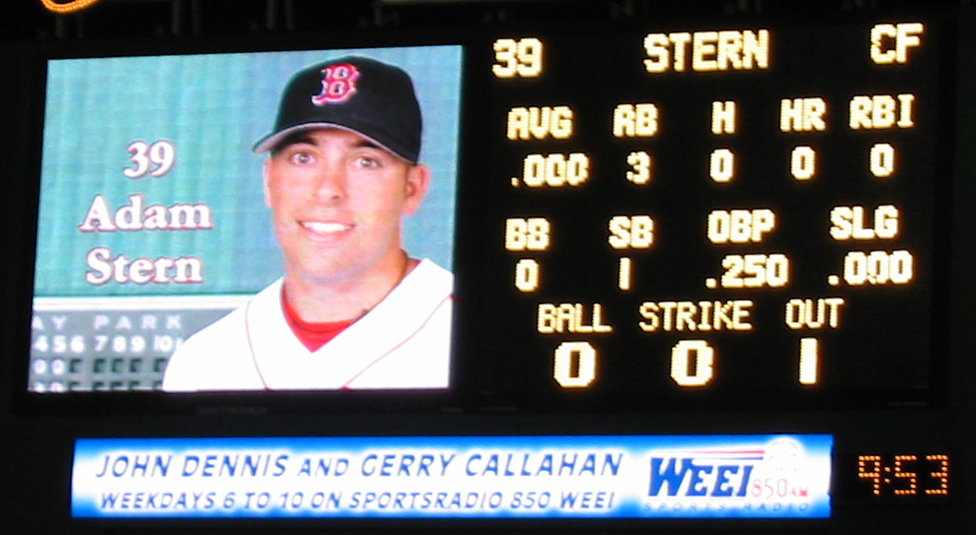 Joe said, "I hope he gets his first major league hit."
And he does.
An accounting of Ortiz's feats with a picture of Stern.