Game 90: July 16, 2005
Yankees (48-41), 7
Red Sox (50-40), 4
W: Randy Johnson (10-6)
H: Tom Gordon (16)
S: Mariano Rivera (22)
L: Matt Clement (10-3)
I should have known that it was unlikely there would be batting practice when a day game follows a night game. So, my friend David and I showed up two hours early mainly to gawk at whomever we could and enjoy a pristine day at the park. Standing behind the home dugout where children thronged to beg for autographs, I was surprised how few of them would append "mister" to the names of the players. Of course, I'm from another generation and the team exudes an air of unceremoniousness that encourages informality. Still, if I'm asking a favor of someone, I would err towards courtesy.
John Halama is generous with his autograph time. Perhaps this impacts his pitching efficacy. Kids, please don't ask Mr. Halama for any more autographs. He also needs all the energy he can get to answer his phone. It's very taxing on him.
Kay Hanley and Michelle Lewis did an excellent job on the national anthem. Hanley began it solo, and Lewis joined in with the "rocket's red glare" verse. Johnny Pesky was the Red Sox Legend of the game, and it was heartening to see him there, moving on from the recent loss of his wife. We gave him a standing ovation.
Clement was a riddle wrapped in a mystery inside an enigma with a side order of deep-fried frustration. He went only 2.2 innings with 5 hits, 6 earned runs, 5 walks, 4 strikeouts, and 1 home run. The 2nd inning was a summary of his day's inconsistency: 2 straight walks on 5 pitches each and then 3 straight strikeouts swinging.
What happens when you have a gunshy third base coach directing the slowest runners in the league while they are running against one of its weakest arms? An inning is killed. With Kevin Millar on second and Doug Mirabelli on first, Bill Mueller hit a single to Bernie Williams. Millar could have made it to home to score, but was held up by Dale Sveum. Mirabelli isn't a speedster by any means, but Sveum must have momentarily thought his team was playing the Devil Rays with a reinvigorated Rocco Baldelli patrolling the outfield.
Mark Bellhorn hit his 7th home run of the year in the 3rd inning, which is the total number of homers in Jerry Remy's career. A benefit of going to this game in person is not having to listen to Joe Buck and Tim McCarver; how were they? Manny Ramirez also had a dinger, his 23rd, in the 4th inning. Both were yielded by Johnson, but were not enough to overcome the Yankees' blockbuster 3rd inning.
You'll see a picture of David Ortiz below after he had finished practicing first base with Eno Guerrero. He could have had more, especially since his fielding error on the Hideki Matsui grounder in the 7th permitted Alex Rodriguez, who got on base with a walk, to score.
Mueller had a great day defensively, initiating a double play on a Gary Sheffield ground ball to end an inning in the 6th and tandeming with Jason Varitek on a strike 'em out, throw 'em out with Williams at the bat and Matsui trying to steal third in the 7th. Without that play, they Yankees would have probably scored more than the single run they did in that frame.
Mariano Rivera has returned to his dominant form of yesteryear, destroying two of Johnny Damon's bats before he lined out to Tino Martinez, striking out Edgar Renteria, and popping out David Ortiz. Despite many fans' hubris about "owning" Rivera, Varitek himself has said that no one owns him, but that the sequence of events in Game 4 of the ALCS was the right time and right situation.
In streak news: Damon's hit streak increased to 28 games, but this was the first loss in the red uniforms after 4 straight wins.
Going for the series split tonight with Jon Miller and Joe Morgan on ESPN. Here's hoping that WEEI will be synchronized with their broadcast.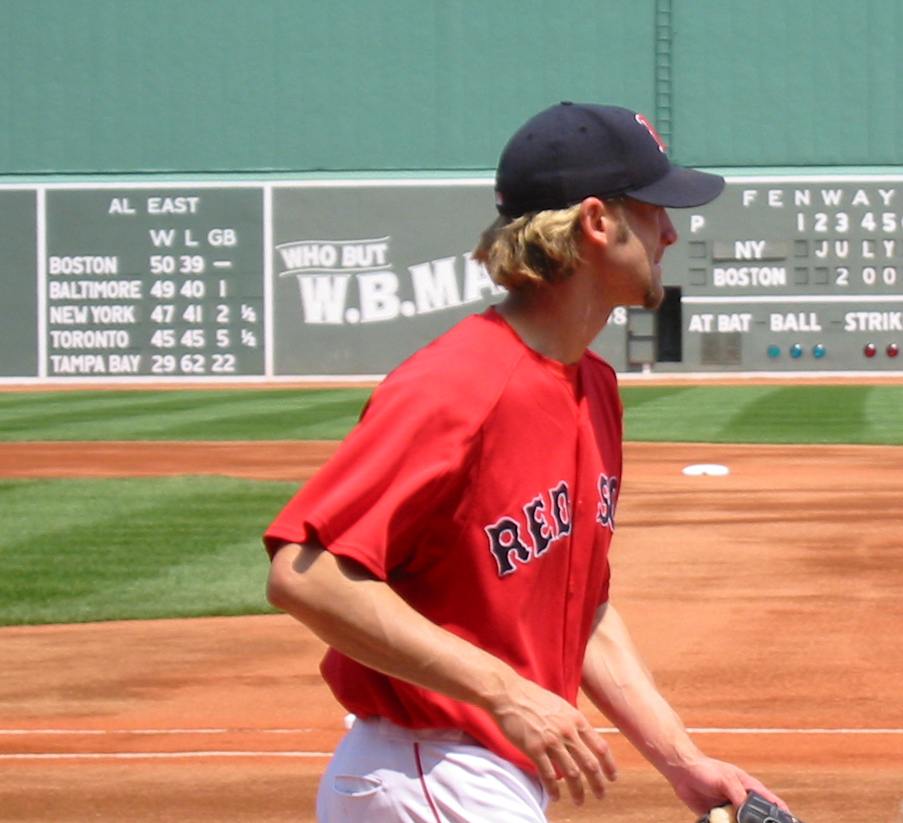 How did that chord progression go again? I'll ask Gammo.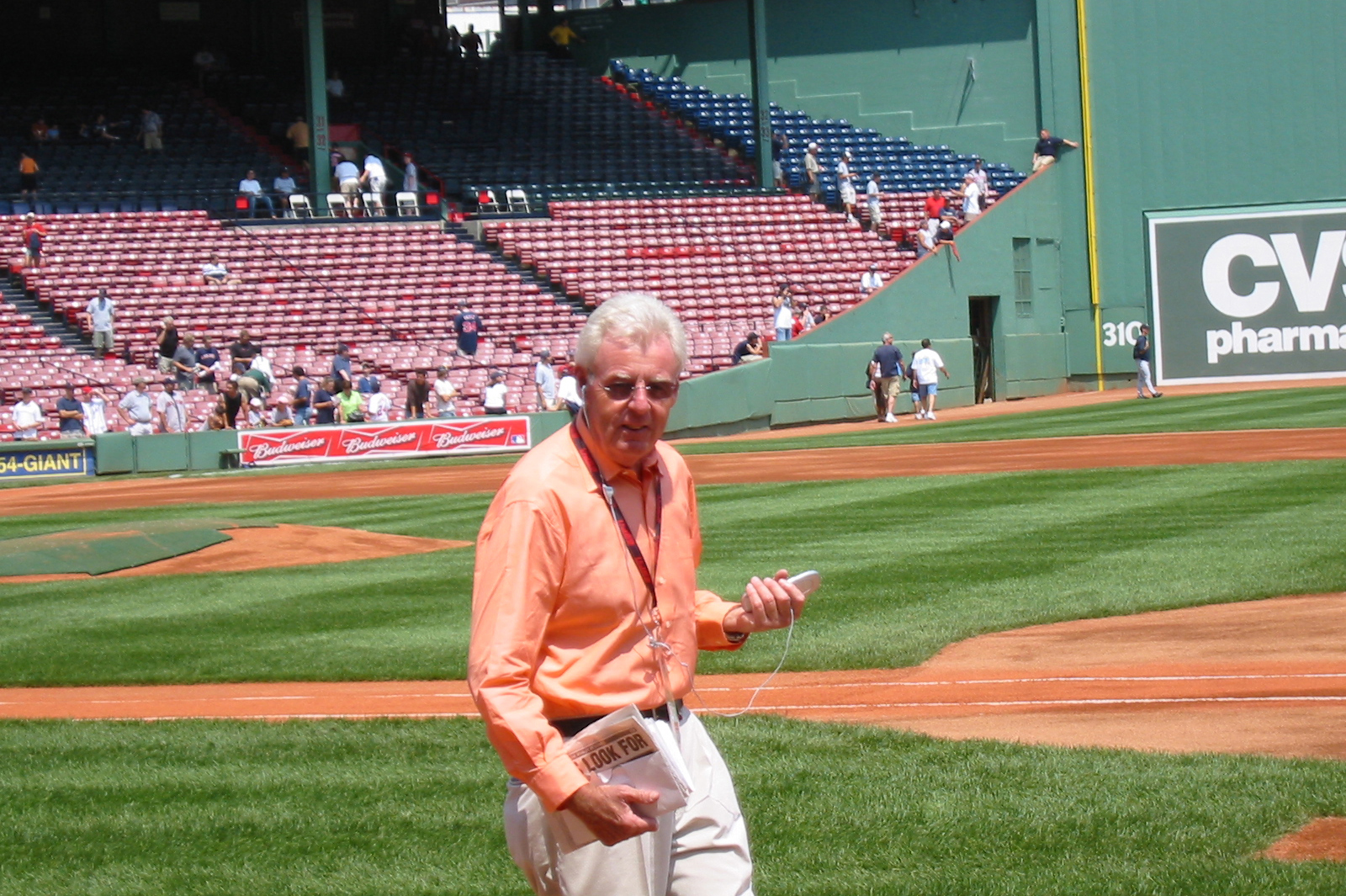 2004 J.G. Taylor Spink award winner Peter Gammons.
He will be inducted into the Hall of Fame on July 31, 2005.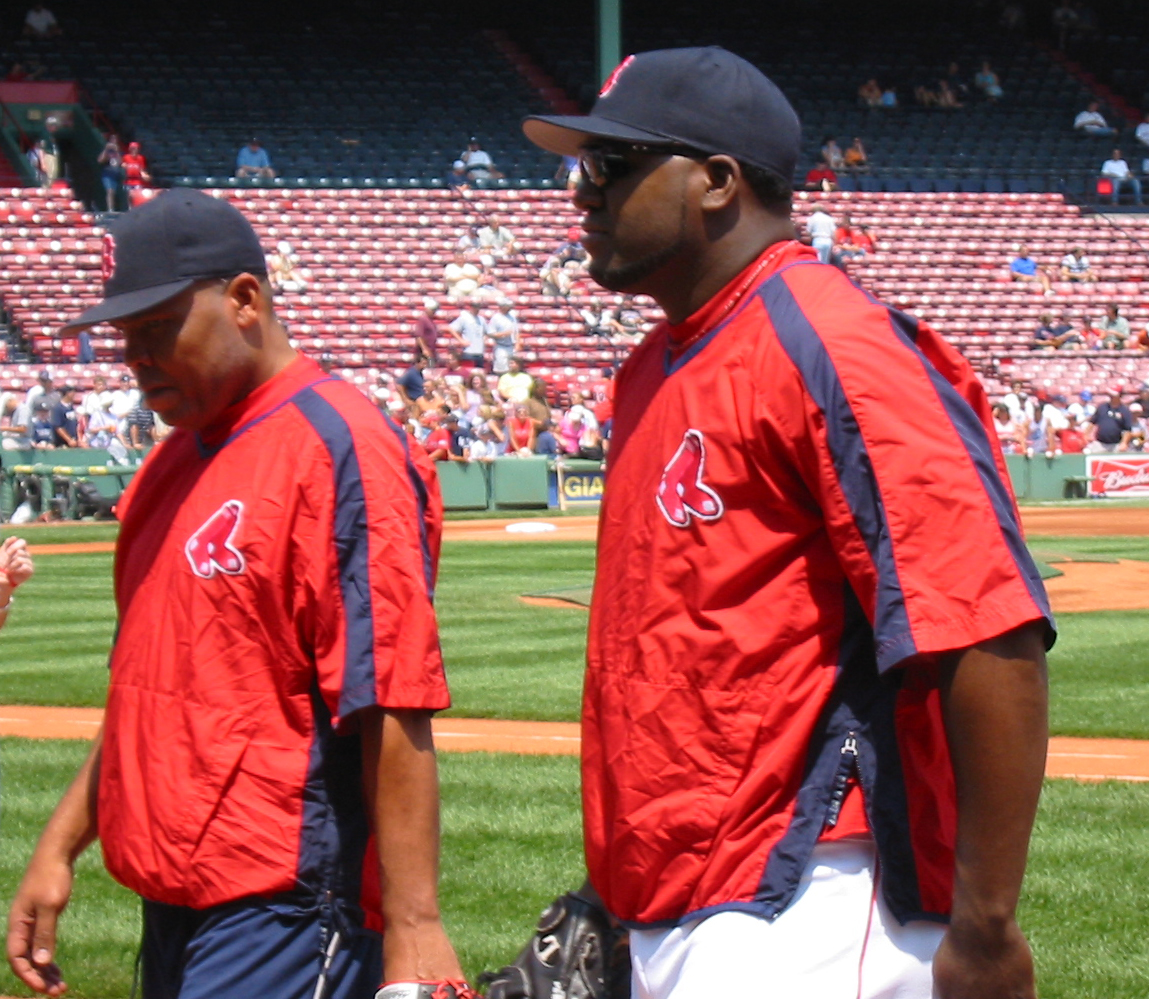 Ortiz was the only non-pitcher I saw before the game. He shagged some ground balls with Guerrero in preparation for covering first base.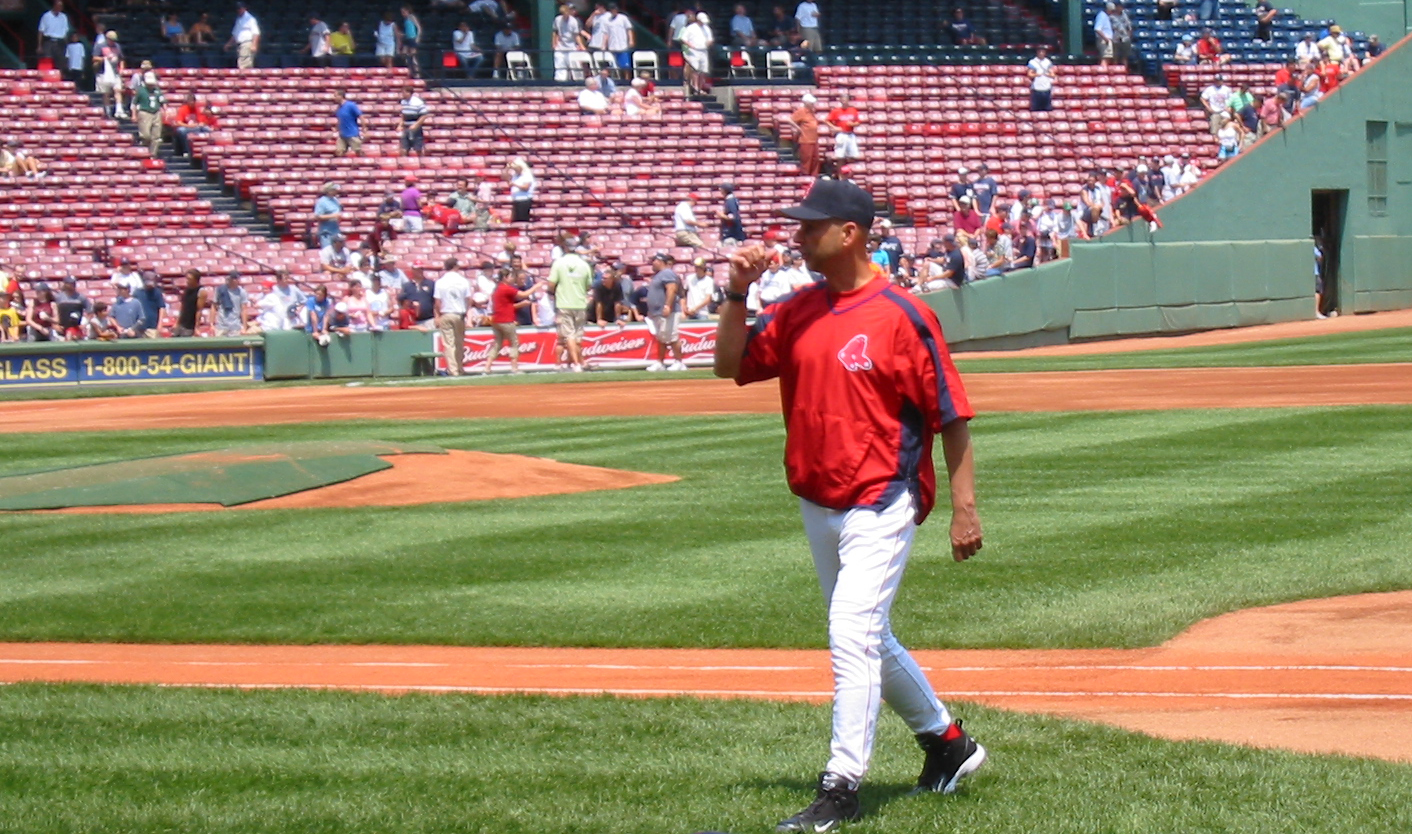 Francona surveys the grounds before the game.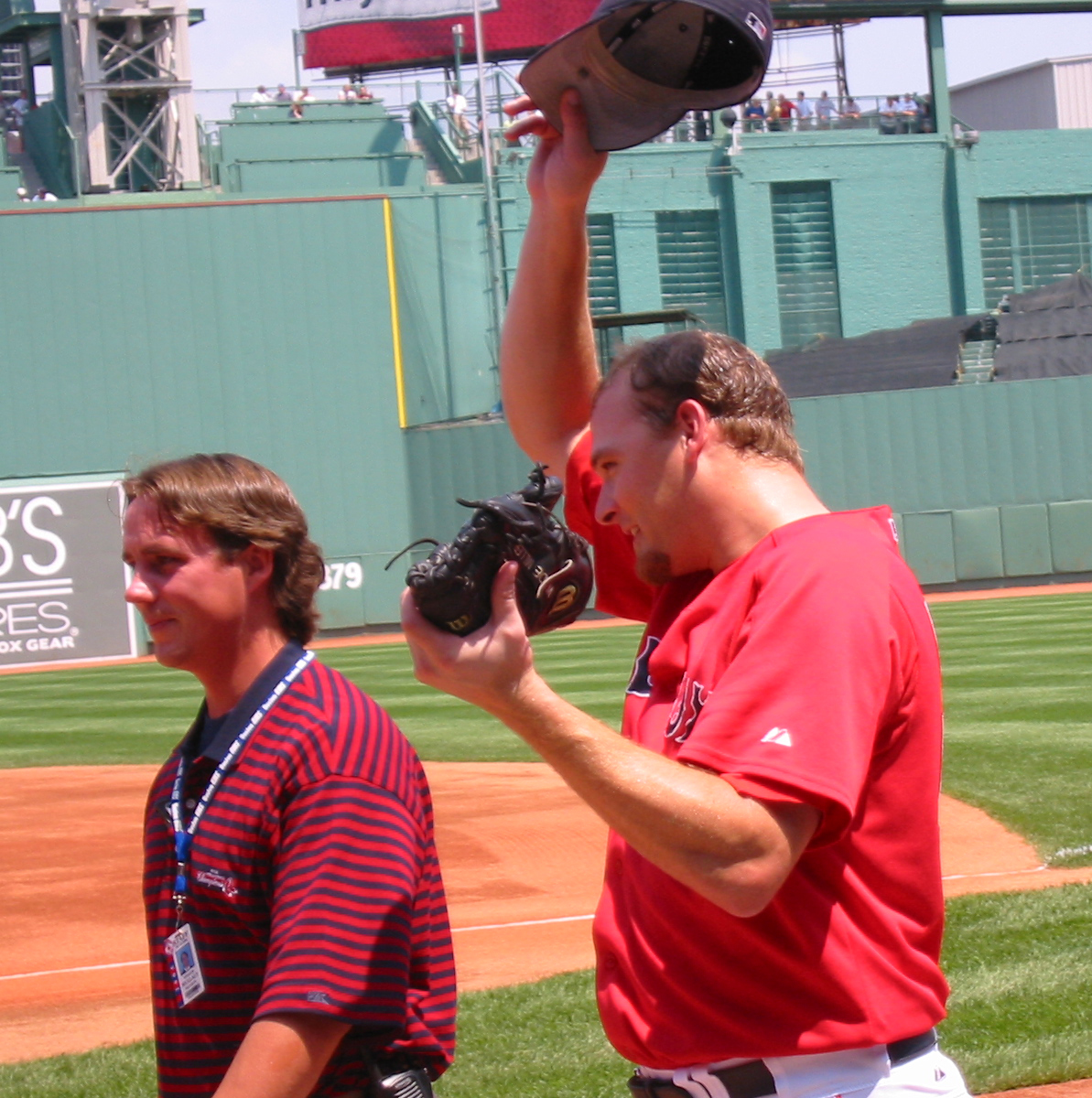 "Whew! Good thing I don't have to pitch this series," thinks Wade Miller.
He wasn't friendly at all when leaving the park Friday night, but spent about a half an hour signing autographs on Saturday.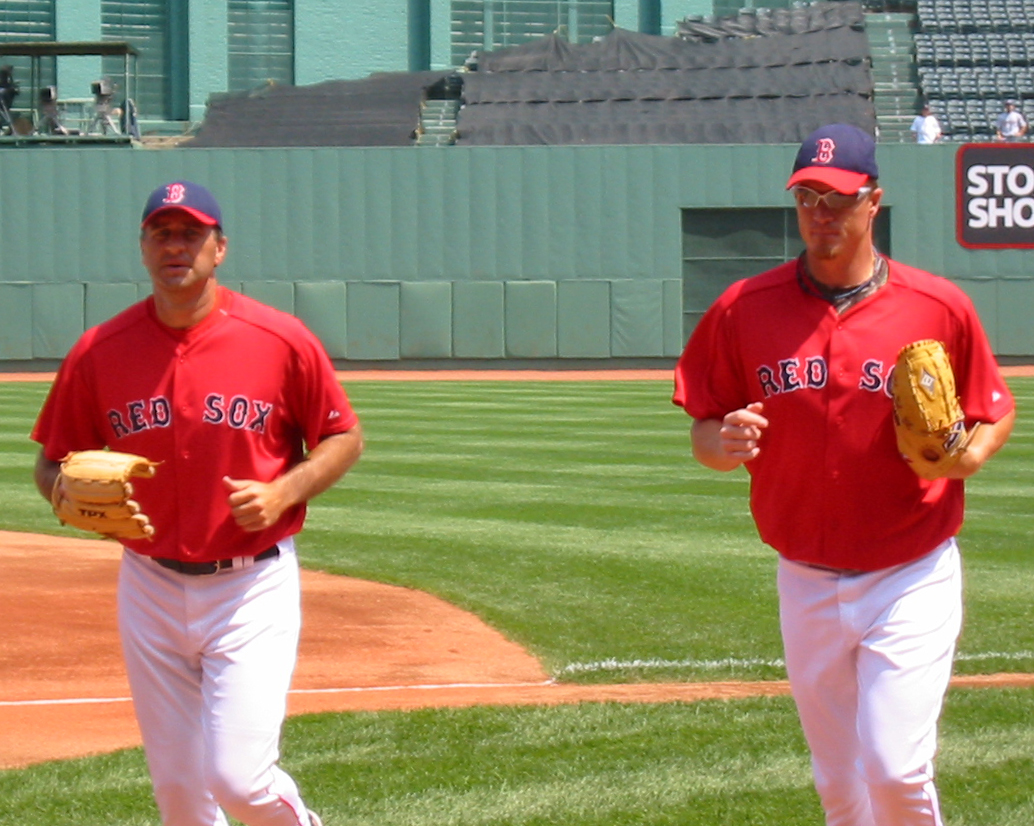 The only bullpen arms I trust.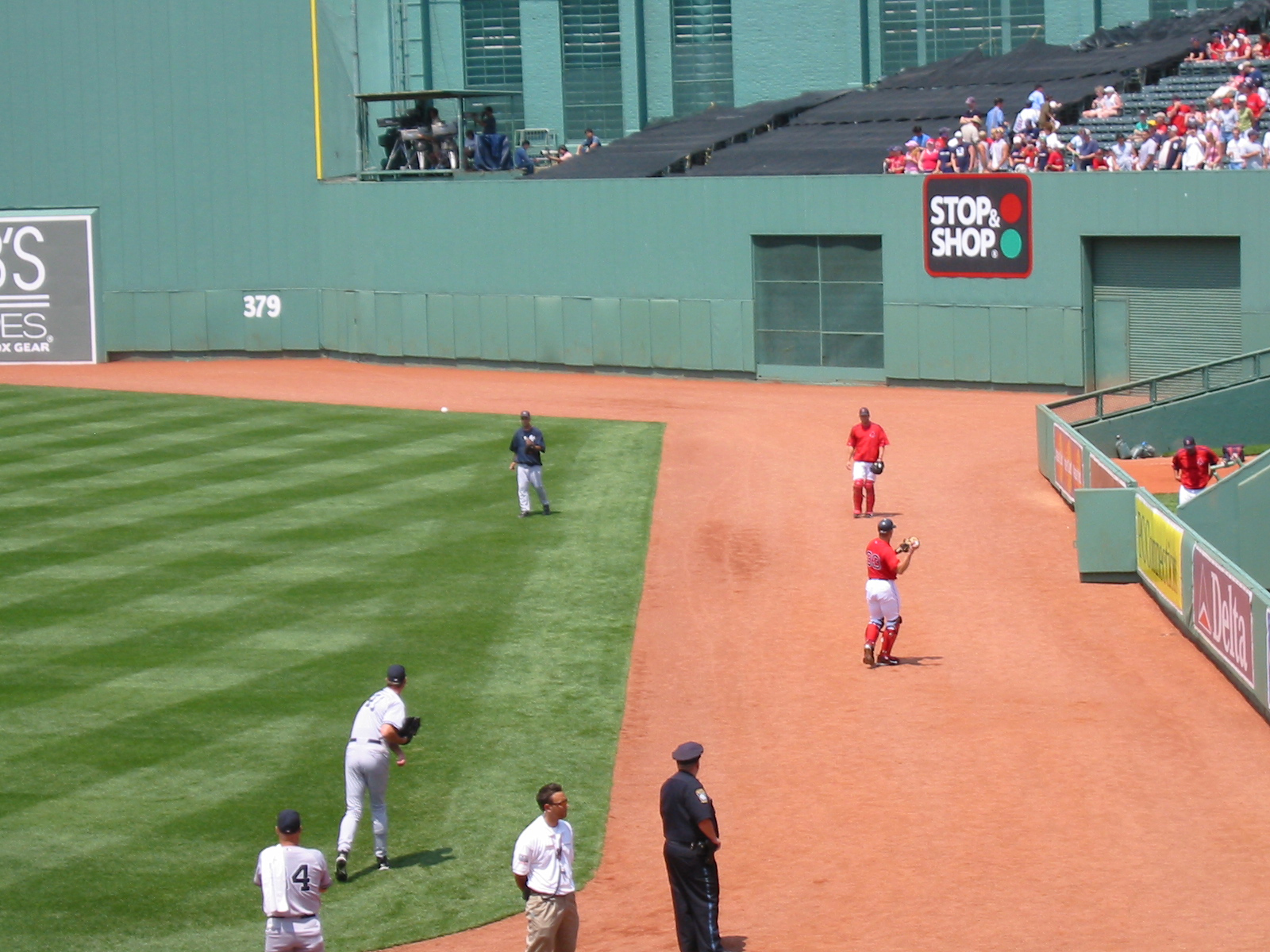 The opposing pitchers long tossing.