Game 63: June 13, 2005
Reds (26-37), 3
Red Sox (34-29), 10
L: Eric Milton (3-8)
W: Matt Clement (7-1)

Yes, it really was as hot and humid as the announcers probably kept on telling you. Even while sitting perfectly still I sweat continually. As far as that old saying that horses sweat, men perspire, and women merely glow, I offer you photographic proof below to refute this.
I got to Fenway Park right at 5:00 PM hoping that the Red Sox would take batting practice. Since they had a Sunday night game and it was sweltering, they skipped it. Perhaps they sensed that Milton would be throwing BP during the game. So instead, the BP fans got a show from Ken Griffey, Jr., Sean Casey, and Wily Mo Peña. Junior's swing is as sweet as they say in person, but the way the ball sounded recoiling from Peña's bat was thunderous. He launched more than a few completely over the Green Monster, arcing into Lansdowne Street.
Before the game started, the left field pole was officially named the Fisk Pole. I have no living memory of the 1975 series, but thanks to NESN's replays this past winter that team is almost as familiar to me as the current one. Fisk throwing out the first pitch to Luis Tiant was a poignant role reversal. It seems that I also missed another touching ceremony in which Jerry Remy's Wally beanie was awarded his own replica trophy and ring.
That's the thing about attending a game in person; in some cases you know less about the game than if you watched it on television or listened to the radio. Because of my angle from Section 11, I had no idea that Manny Ramirez's home run in the 6th was the result of Peña botching up the fielding. I do know that my heart was in my throat when he slid head first into third to advance on Javier Valentin's throwing error in the 4th.
Clement, the replacement ace, went 8 innings and had 3 earned runs, 1 walk, and 9 strikeouts. The first 4 or so innings he seemed to be working at a painstakingly slow pace, but started to pick it up towards the end. Which was nice, since I was at that point considering taking out a loan to pay for my $3 bottles of water.
From my seat, I could see Hazel Mae in canvas alley. She would high five the grounds crew as they left the field. In fact, she was almost Cabrera-like in that she would have special patterns for some of the guys.
I didn't realize until later it was the Kelly Barons that got nailed by an errant ball; I thought it was a random fan. I wondered what the hold up was, and may have even yelled out the suggestion that whoever got hurt should walk it off. Then Chang-Ho Lee and Jim Rowe came running, and realized it was a bit more serious than I originally thought.
All in all, a great game and I shed approximately 10 pounds in water weight. I can't wait until my next visit to Fenway Park and Spa, which will actually be this Wednesday thanks to Jere and Reb.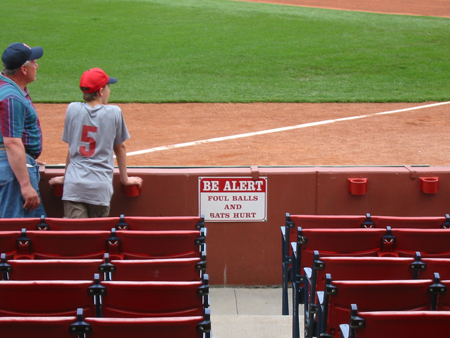 And it also hurts when the player whose number you wear gets traded.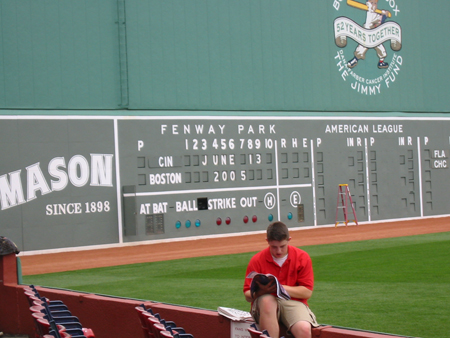 The last time the scoreboard said Cincinnati was in 1975.
The Kid.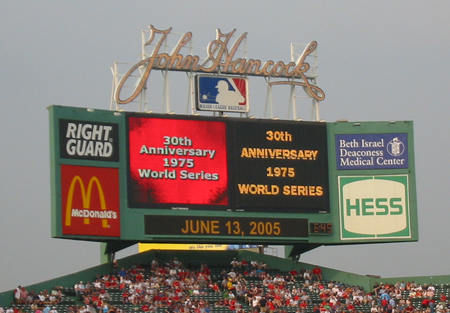 I was 3.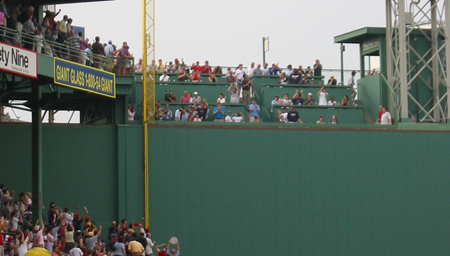 Carlton Fisk is the beige spot to the right of the pole.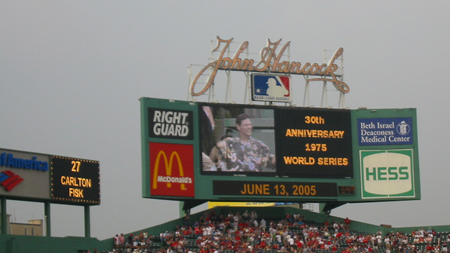 Fisk's aloha shirt isn't as offensive as mine, though he did try.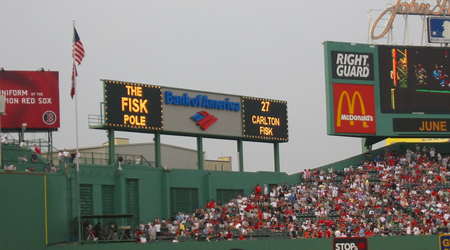 The naming ceremony is complete.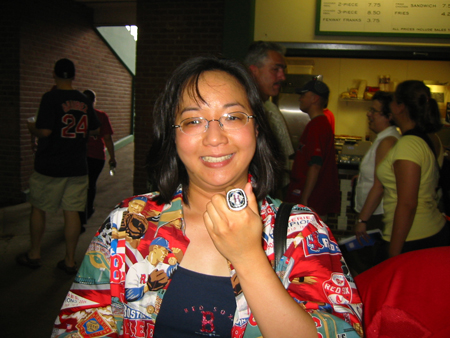 What's brightest: the ring, the shirt, or my sweaty face?