Game 65: June 15, 2005
Reds (26-39), 1
Red Sox (36-29), 6
L: Aaron Harang (4-5)
W: Bronson Arroyo (5-3)
I just can't keep up with the blogging efficiency of Witch City Sox Girl, Reb Sox, and A Red Sox Fan in Pinstripe Territory. We were all at the game and they've already posted about this. I'm the last one to write about it, and I can't even say it was because I was up all night developing a Blogger Efficiency Rating Factor (BERF). If I did try to derive a formula, I would get McCarty's expertise and we would probably come up with something that takes into account number of words per post divided by the time elapsed from actual events subtracting for travel duration. Which would make me really pathetic, since I live less than 10 miles away from Fenway Park. I can expand upon how the MBTA Orange Line has shuttle buses from Sullivan Square to Wellington (where I park my car for afterwork games) that added to my travel duration. But that's a pretty lame excuse considering Jere now lives in the Big Malus pumila, Rebecca is in the state named for an Algonquin word meaning "on the long tidal river, " and WCSG lives in the town named after the Hebrew word for "peace."
So, I'm a big zero in BERF. I could be traded at any time. My listings in blogrolls across the globe will plummet, because people will tire from reading my ruminations on a game that happened over a day ago.
You might recall that I was also at Monday night's game, so you could say that I've seen fire and I've seen rain. You may also remember that I am originally from Hawai'i, so large fluctuations in weather used to be foreign to me. But since I've been here since 1997, I can come close to saying that the variations in weather are almost fun. Talking about atmospheric conditions in New England is a lot more interesting than it is where I'm from. Not much small talk in Hawai'i about the temperature or precipitation, and surf reports replace pollen counts.
To propose a 70s television show analogy (which, truth be told, is how I live my life), it was a Red Sox bloggers meets "Charlie's Angels" kind of night. (The real television, not the recent movie retreads.) Give me a pack of Marlboros, I can get that Kate Jackson voice down, although secretly I'd love, for once, just once, to be cast as the blonde. (Heather Locklear, hear my prayer. Immaculate Queen of the Most Holy Night Time Soap Operas and of Guest Appearances on Middling to Excellent Sitcoms, hear the prayers of brunettes. Teach me to bleach, to tease, and to coif. And forgive us our visible roots as we forgive those whose roots appear to us.)
The Red Sox swept the Cincinnati Reds, but consider the stature of the opponent:
24th in batting average (.257)
1st in strikeouts (522)
21st in hits (570)
9th in on-base percentage (.336)
28th in earned run average (5.57)
2nd in earned runs against (353)
16th in strikeouts against (384)
The Boston club should beat this team soundly, and they did so, consecutively and convincingly. Varitek had the opportunity to finally hit a grand slam in the bottom of the 5th, but struck out looking. The other captain, he of the intangibles, still hasn't, either, so that takes some of the edge off. The Pirates are next; we'll thank them for Tim Wakefield and Bronson Arroyo, but beat them to a pulp for pawning off Scott Sauerbeck on us.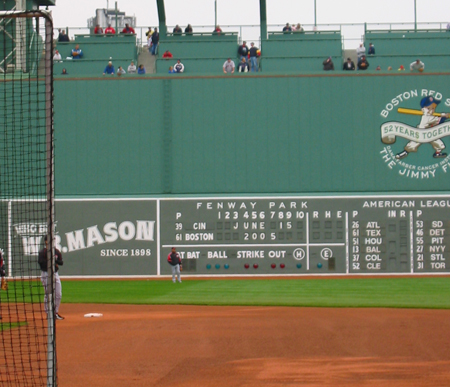 The illusory ladder.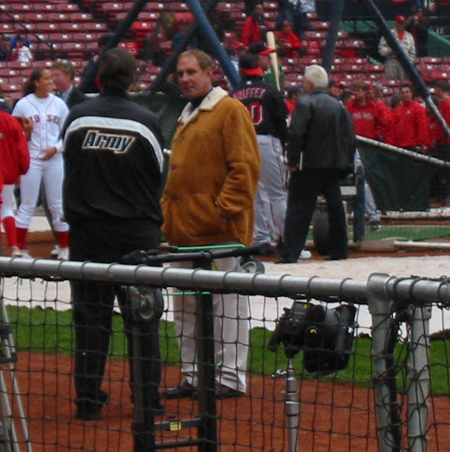 Bob Loble isnt a lyar! Old Hickory in the background. (If this caption doesn't make sense to you, you don't go wyaback on redsoxnation.net.)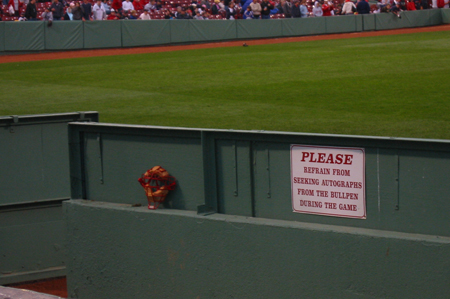 What the sign really means: "Hey, you. Yeah, you, lady. Stop stalking the players."

Door in a door. What will they think of next?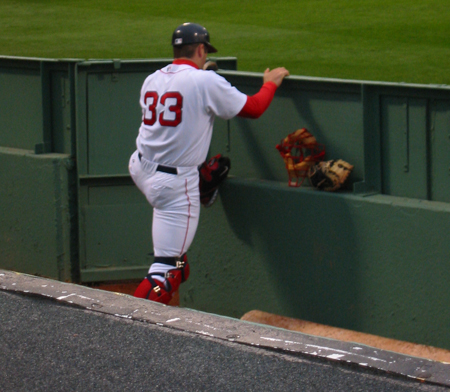 Technical stretching.

Dave Wallace thinks to himself, "Why can't I work in a normal town where they don't know the pitching coach's name?"

Wednesday, she's looking for a friend....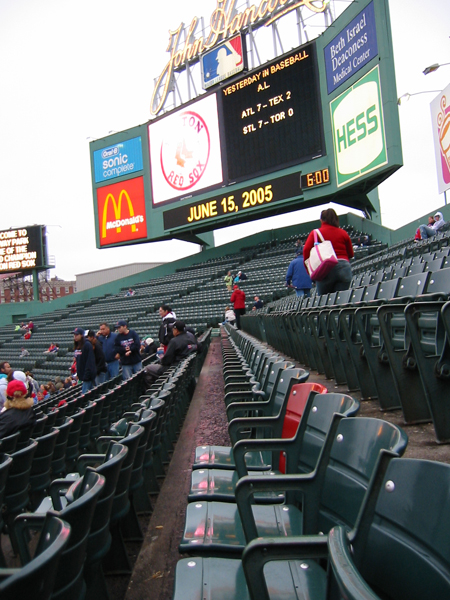 The Red Seat.