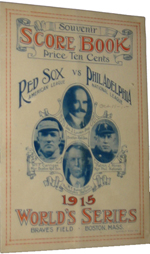 Game 74: June 26, 2005
Red Sox (44-30), 12
Phillies (39-37), 8
H: Matt Mantei (7)
BS, W: Mike Timlin (2, 2-1)
L: Rheal Cormier (2-2)
Brett Myers's facial hair is more annoying than Matt Clement's, which I couldn't believe was even possible. It's trimmed to a distinctive point in a modified musketeer style, and he wears it impertinently as if to say to his teammates, "Hey, mes amis, après the game, let us journey together to nearest bistro and drink us some vin, huh huh!" But his rakish appearance was not enough to beguile the Red Sox batters, who booted him out of the game after only 4 innings, during which he was abused for 8 hits, 7 earned runs, 3 walks and 2 home runs. He did manage 5 strikeouts.
Manny Ramirez not only garned his 10th outfield assist in the 1st inning by hosing Jason Michaels at third base, but he also moved into a tie with Eddie Murray for second place on the career grand slam list with his 19th. His 4th inning homer brought in Wells, Mark Bellhorn, and David Ortiz. Only Lou Gehrig, with 23, is ahead of Ramirez and Murray. Largely because of Ramirez's Gold Glove season so far, Red Sox outfielders lead the league in assists. The only things that could be less likely than this outcome would be if Boston led the league in stolen bases or sacrifice bunts.
A Boston win seemed to be inevitable. Charlie Manuel got himself ejected in the 5th inning, probably to get into some air conditioning. The bottom half of the 5th inning saw a minor revival for the Phillies. After permitting Mike Lieberthal to reach on a ground ball to center, Wells initated a sparkling 1-6-3 double play, nimbly fielding Ryan Madson's bunt off the mound. But with two outs, 4 runs crossed the plate, including a Pat Burrell 2-run home run. At that point, Wells had 93 pitches and the bullpen had to prove its mettle.
Alan Embree melted under the heat and pressure. Add some diced jalapeños to him and you have tasty dip for your nachos. He gave up a leadoff double to center to Jimmy Rollins and then walked Michaels on 5 pitches. Bobby Abreu reached on Ramon Vazquez's (he's still on the roster?) error, scoring Rollins and advancing Michaels to second base. Embree is pulled with righty Burrell taking the plate, but Timlin is atypically unsteady, allowing Abreu to cross the plate with the tying run on a Jim Thome sacrifice fly.
The Red Sox were relentless in the 8th. Johnny Damon's drag bunt up first base line set the stage and proved the team could resort to National League tactics as required. Damon scored on a Bellhorn double, netting the later with 3 RBIs and 7 total bases for the game. Ortiz hit an infield bleeder that Rollins pursued but should have been fielded by Chase Utley. The miscue placed Bellhorn 90 feet from home, just in time for Ramirez to bring him in with a sacrifice fly to center. Trot Nixon grounded into a force out that erased Ortiz from the bases. Jason Varitek's subsequent home run proved he is the best catcher in the league and that when the Red Sox smell blood, they go in for the kill. With back-to-back sweeps on the road and looking like the champs they are, the team returns home tomorrow as the leaders of the American League East.
The history of these teams reaches back into the early years of the world's series, as it was then known. The National League Philadelphia team met the Boston Red Sox for a five-game series in 1915. A rookie named George Herman Ruth, called "Babe" going back to his minor league days in Baltimore, contributed only one pinch hitting appearance in place of pitcher Ernie Shore in the 9th inning of the first game, and he grounded out to first baseman Fred Luderus. Ruth did not even pitch a game in this series despite having an 18-8 record in 28 starts with an ERA of 2.44.
The Red Sox lost the first game, but went on to win the next four games straight. Had a most valuable player award for the series been bestowed in those days, Duffy Lewis most likely would have won it. He led the team with 5 RBIs, hit 1 home run, and batted .444. Harry Hooper would also be a candidate with his 2 home runs, 3 RBIs, and .350 batting average. As for pitchers, Rube (George) Foster's 2 wins, 13 strikeouts, and 2.00 ERA distinguished him from his fellow starters Ernie Shore and Dutch Leonard.
The Red Sox won their third world championship in three trips, and looked for all the world as if it was going to be the team to dominate baseball for generations to come.