Game 72: June 24, 2005
Red Sox (42-30), 8
Phillies (39-35), 0
W: Tim Wakefield (6-6)
L: John Lieber (8-7)

He slices, he dices! He lifts and separates! He has his own website! ("Not the fame... love the game and you shall triumph.") Manny Ramirez starred in what could have been a one-man show, but there were memorable appearances by the Backup Catcher, the Wily Knuckleballer, and the Hulking Power Slugger as well. He made a spectacular catch in foul territory for first out in 4th inning, robbing Jim Thome of more chances at the plate. To get to the ball, he had to slide and came dangerously close to injuring himself as he had to stop his momentum with his right leg. If he were Jeter, he would have dramatically hurled himself into the stands. But since it was Manny, he got up, put his cap back over his do-rag, and double pointed to the dugout. Then, "as so often happens," Ramirez hits a 3-run opposite field home run the very next inning with 2 on and 1 out. (It was not technically Lead Off/Outstanding Fielding Alignment, or LOOFA, but it was close enough for me.)
Perhaps Doug Mirabelli felt badly that Manny had that overly aggressive running play last series and didn't want his teammate to feel alone. So he got himself thrown out at second base to end the 5th inning, providing some comic relief. All is forgiven, to be sure, because of his 2nd inning 3-run home run and for being Wakefield's steadfast mooring.
Wakefield's last 3 outings have seen him return to form. He went 8 innings with 2 hits, no runs, and 6 strikeouts. He was on track to have a complete game, but ran into trouble when the 8th inning started off with a throwing error by Bill Mueller, allowing David Bell to reach first. Bell then proceeded to second on a passed ball during Mike Lieberthal's at bat. Wakefield walked the bases loaded, but got Bobby Abreu to whiff to end the inning.
Where's my Ortiz canned text, the stuff about him blasting a homer into the stratosphere? He did it again. In the 9th inning this time, with Johnny Damon on base.
Since the Red Sox are playing the Phillies, I get to tell my one and only Phillies anecdote. They played at Fenway last year and I got to go to the game that Pedro Martinez pitched on June 25, 2004. I hung out near the visitor's bullpen because Martinez was long tossing in the area. The Phillies pitching coach made his way towards the bullpen, and I thought, "Hey, that guy looks like Bob Brenly." Then it dawned on me that it was actually Joe Kerrigan, former Red Sox manager for part of the 2001 season and under whose guidance the team record was 17-26. Martinez pointedly ignored Kerrigan as they crossed paths. I was right near the door, and called him several times, using my best polite voice. "Mr. Kerrigan! Mr. Kerrigan!" He seemed surprised someone would remember his name. I guess because I knew his name and didn't seem threatening or verbally abusive, he paused to talk with me.
"So, how is it in Philly? I heard the media is rough there," I asked.
"They're pretty bad," he assented.
"As bad as Boston?" I presssed.
He responded, "No place is as bad as Boston." Fans around me laughed knowingly.
He was eager to get to his bullpen duties, so I closed with a half-hearted "Good luck today."
"But not too much," added a guy near me.
I can't find any information on what Kerrigan is doing now. With the churn in the coaching situation in the Philadelphia organization and since pitching coaches are usually an anonymous entity in terms of baseball coverage, any Kerrigan updates were difficult to uncover. I'll always remember him because he bothered to spend a few seconds talking with a random fan.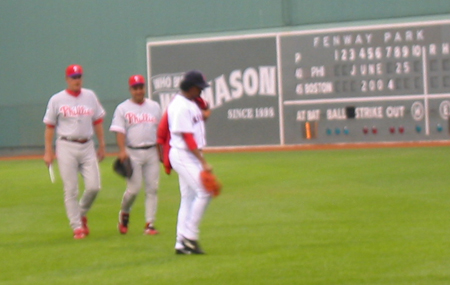 Which team leads the league in shutouts? Us, with 7. Which team is number 1 in the American League East? Us. Yay, us.