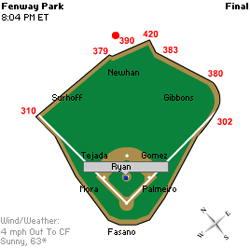 Game 53: June 2, 2005
Orioles (32-21), 4
Red Sox (29-24), 6
BS, L: B.J. Ryan (2, 0-1)
W: Keith Foulke (3-3)
I tried to listen to this game at work, and every single time the Giant Glass spot came on with Jerry Trupiano's "Way back" voiceover, I thought it was a game call. Not only was I truped, I was faux-truped. Worse yet, I wasn't able to listen to the entire game live because of a network outage. I get no radio reception in my building and didn't have my portable radio anyway. Enough of the whining, however, because the team is back to winning.
Foulke should just buy Ortiz a Rolex now for the times his butt has been saved by a timely Davidian blast. If there was a way to buy stock on the number of game-winning hits by a given player, Ortiz would be Berkshire Hathaway. The bottom of the 9th inning sequence was brilliant:
B.J. Ryan replaces Jorge Julio
Johnny Damon flies out to center (but makes Ryan throw 8 pitches)
Mark Bellhorn singles
Kevin Youkilis strikes out swinging
Edgar Renteria with a strategic bunt for a base hit
A very frightened Ryan throws to Ortiz, who slugs over 800 against him. Seven pitches later, the Red Sox have a series split agaist the Orioles
The problem is that this dramatic win in a way glosses over the continuing Foulke engima. He wasn't knocked around as in other late inning situations, but he let on the leadoff hitter, which is something you never want to happen with the score so close. David Newhan (who I have grudgingly grown to respect) steals second and is bunted over to third by Melvin Mora. Miguel Tejada is intentionally walked and Sammy Sosa is semi-intentionally walked. Rafael Palmeiro's ground ball gets Sosa at second but scores Newhan, tying the game.
I know I should be celebrating, and I am inside, but I wouldn't mind it if Scott Williamson had some miraculous recovery and ended up back in Boston. I was always leery of change-up artists like Foulke as closers.
(I just noticed on the screen captures of the final hits of games, MLB displays the current time even though it was yesterday's game. Is that a bug or a feature? I hope that someday MLB will have a Gameday feature where you could click to any previous at bat for the pitch chart. It is hopefully stored somewhere.)