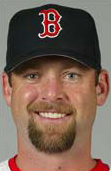 In honor of interleague and my former team, the Red Sox, who are in the City of Hog Butchers, I write about the history of gum.
The word comes from the Middle English gomme, from Old French, from Late Latin gumma, variant of Latin gummi, cummi, from Greek kommi, perhaps from Egyptian
mj-t (and even I don't know how to pronounce that last one). Many cultures invented gum throughout history, and this parallel evolution proves that you can't keep a good invention down.
In ancient times, the Greeks used mastiche, which was derived from the mastic tree (Pistacia lentiscus, which can be found on Chios, where they still tap the tree the traditional way). Of course, the word "masticate" comes from this substance to English by way of Latin. Mayans also used plant sap for gum, but their tree of choice was the sapodilla (Manilkara zapota), and the chewing material it created is chicle.
Few people know that Antonio López de Santa Anna, the Mexican president, dictator, and general, inadvertently helped spread the usage of gum in the United States during his exile in New York City when the 1860s. He had vast quantities of chicle shipped to the city and was attempting to transform the substance into a replacement for rubber in carriage tires. When this venture proved unsuccessful, his American business partner, Thomas Adams, decided to market chicle as a replacement for the paraffin wax and spruce gum. Adams and his father were fairly successful. Their company, whose first product was called Adams New York No. 1, eventually originated brandnames that persist until our present time, such as Dentyne and Chiclets. The Adams Sons and Company goes through many iterations, including being purchased by Pfizer; the most recent transaction was in 2002 when Adams was acquired by Cadbury Schweppes for $4.2 billion.
But why do we like chewing gum so much? Some say it is an extension of the suckling instinct. Scanning recent publications, there are many ways gum may improve your life. Experts of all different stripes have detailed how gum enhances cognitive performance, improves memory, abates bad breath, and may eventually increase breast size. Chew on that as you enjoy the games at Wrigley Field, and note that William Wrigley is to Thomas Adams and the popularization of gum in America as Abner Doubleday is to Alexander Cartwright and the origination of baseball.
Every Friday, Dave McCarty will join us to discuss a topic of interest to him and probably no one else but the author of this site.