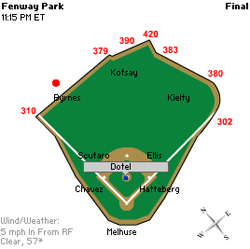 Game 33: May 10, 2005
Athletics (14-19), 2
Red Sox (20-13), 3
H: Ricardo Rincon (4)
BS, L: Octavio Dotel (3, 1-1)
W: Matt Mantei (1-0)
Still catching up. After dinner with my co-workers, I proceeded to my room at a brisk pace, trying not to appear too desperate to get a glance of the game. Who am I kidding, it's a well-known fact that I'm a fanatic with no pride. I practically sprinted back. I got back in time for the 9th inning. Perfect timing.
Kevin Millar is so easy to mock, especially after miscues like an error that led to an unearned run in the 1st inning and then missing the bag in the 7th inning on a fielder's choice. He was getting fitted for the goat horns when his chance for redemption came, and he lined the game-winning 2-run home run over the Green Monster. Jeers turned to cheers with a single swing of the bat.
Both starting pitchers did well, with Kirk Saarloos going 5 innings, 4 hits, 1 earned run, 3 walks, and 2 strikeouts. Bronson Arroyo could have tacked on another win with his 6.2 innings, 3 hits, 1 unearned run, 1 earned run, 3 base on balls, and 4 strikeouts. With this win, Boston's one-run game record was 6-5, and they have won the last 4 of these squeakers.
Does the "A" stand for "anemic"? After this game, not one player in the starting lineup had a batting average above .300. The highest was Mark Kotsay's at .299.
It would be amusing if baseball players had to participate in team-building workshops like corporate workers. A human resources representative would facilitate the proceedings:
HR rep: Now, Kevin, tell us how it feels when you get sent down to Pawtucket?
Youkilis: Well, I sorta feel like I'm being taken for granted and underestimated.
HR rep: Does it hurt?
Youkilis: Yeah...like that time I hit that home run when I was a rookie. I know it was meant in fun but [sniffs], I was real...proud and stuff. And no one was there to high five me.
Mirabelli: Dude, it was a joke.
Youkilis: How was I supposed to know? I was new and all.
HR rep: Okay, team! Group hug for Kevin.