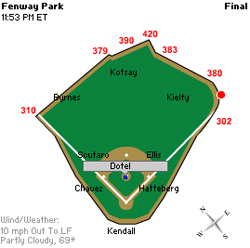 Game 34: May 11, 2005
Athletics (14-20), 5
Red Sox (21-13), 6
BS, L: Octavio Dotel (4, 1-2)
H: Mike Timlin (9)
H: Mike Myers (4)
BS, W: Keith Foulke (2, 2-3)
Does Billy Beane ever wonder how his life would be different if he remained the Boston Red Sox general manager back in 2003? He backed out of a deal that would have paid him $12.5M over 5 years. He stated that one of his first moves would have been to trade Jason Varitek. Varitek, who is currently .343 BA, .396 OBP, and .627 slugging. Varitek, who, along with Kevin Millar, will haunt Dotel for the rest of the season.
Two years after Beane was Red Sox GM for a day, he's leading a team that has deteriorated. In 2003, the A's were eliminated by Boston, and last season his team limped into the last month of the season and failed to make the postseason. The window he had to take "The Big Three" to the World Series has passed, and Beane kept Barry Zito, the pitcher whose effectiveness could be considered the most dubious.

Beane was also on the losing end of the Keith Foulke negotiations. Despite Foulke's recent difficulties and his blown save in this game, having a closer that can conceivably get more than 3 outs is a huge advantage. The late resurgence by Oakland and necessary heroics by Varitek aren't the ideal ways to close out a series, but I'll take a sweep any way it can be had.

Continuing with my corporate America meets the Red Sox, I think an "Improving on-field Communications" sesssion is in order:

Sveum: I want you guys to trust me when I wave you in.

HR rep: Is there any reason why they shouldn't trust you?

Mirabelli: [cough] Baldelli!

Sveum and HR rep: Who?

Bellhorn: It'd be cool if you guys could, you know, like tell me if I'm about to get picked off 2nd base or something.

Millar: I gotta agree with that. Sometimes I'm out there all ready to break for 3rd with my blazing speed and then boom! Some dang pitcher zips one over and I'm deader than a deer in the back of Timlin's truck.

HR rep: How does it make you feel when you're picked off?

Bellhorn: Dumber than Millar.

Mueller: Is that even possible?

HR rep: Let's remember the ground rules. We have respect each other's feelings here.