Game 28: May 5, 2005
Red Sox (16-12), 2
Tigers (12-15), 1
W: Bronson Arroyo (4-0)
S: Keith Foulke (7)
L: Ugueth Urbina (0-3)
Did you folks get this e-mail?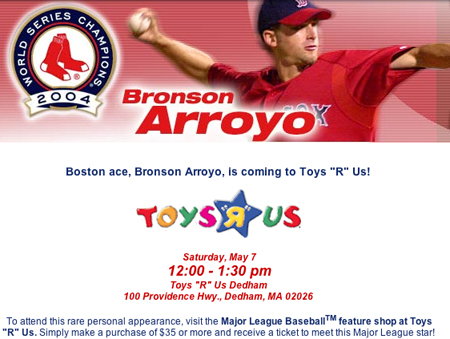 Are visits to national toy store chains a regular thing? It seemed odd to me. It might be in conjunction with this new MLB feature shop in TRUs. It perhaps shouldn't be so surprising that Arroyo came so close to a no hitter, as he has proved that he can throw a perfect game in Triple A, throwing only 101 pitches, 73 of them strikes. What may have struck everyone as strange before the season started is calling Arroyo the club ace. Given current circumstances, he is.
David Ortiz continues to define "clutch." You don't have to read Bill James's article "Underestimating the Fog," or even David Leonhardt's piece in the New York Times about James's article. See hits like his line drive double to center in the 9th; that's all the proof I need.
There was an injury scare for Edgar Renteria, but as I listen to New England Sports Tonight, they are telling me that the radiographs were negative. A series win, and I get to go to the next 2 games. Please cooperate, weather.