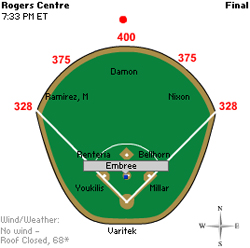 Game 44: May 24, 2005
Red Sox (25-19), 6
Blue Jays (24-21), 9
BS: Mike Timlin (1)
L: Alan Embree (1-2)
W: Miguel Batista (3-0)
I am destined to pitch a nearly
Perfect 1.1 innings with no hits or runs and 1 strikeout
If it weren't for that strikeout, my line would look like
e.e. cummings, you know that poem with the uppercase O's
Am I trying too hard here, trying too hard to make you hear
Varitek's bat swinging at nothingess
Slow thundering of Millar grounding out
The thud of Mueller's flesh
A pleasing burst of futile noise from Bellhorn's bat
Echoed by the bootless line out by Damon.
Embree is not like me
The fly ball fireballer grooves one on the mound,
Not on the mic
Three runs later, three wins for me.
— Miguel Batista
In real life, Batista would of course write much better and in Spanish. Please excuse my Fauxtista; I just couldn't resist.