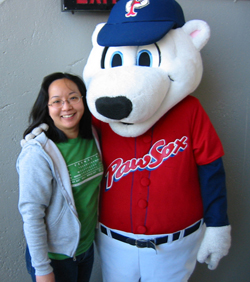 Buffalo vs. Pawtucket
Bisons (5-6), 4
Pawtucket Red Sox (4-7), 9
L: Francisco Cruceta (1-1)
W: Scott Cassidy (2-0)
Paws, the Pawtucket mascot, is so much more approachable than Wally ever was. To get in touch with the Boston mascot I had to go through a gauntlet of agents, spokespeople, PR flacks, and attorneys. He wonders why he is being ostracized. On the other hand, Paws mills with the hoi polloi, knows the regular fans by name, and even had time to pose for a picture with me. Now that he is in a stable, longterm relationship with Sox, we'll probably be hearing the pitter patter of little pawlings soon.
Chris Narveson started for the Pawsox and went 3.1 innings with 3 hits, 2 runs (both earned), 2 walks and 2 strikeouts. He got through a rough spot in the first inning. After striking out the first batter and inducing the second to fly out, he hits Mike Kinkade. He then walks the next two pitchers, loading the bases. With the designated hitter Jeff Liefer hitting, Narveson then balks in a run. He hangs on to get Liefer to line out to Kevin Youkilis.
Scott Cassidy then pitched the next 3.2 innings and was shaky. He gave up 2 home runs and 3 walks, striking out only 1. At that point, however, the Bison's pitching was worse, with 4 runs in the 5th inning providing an adequate buffer. left-handed pitcher Jason Kershner came in the 8th to shut down the Bisons, allowing no runs.
Alejandro Machado was an offensive sparkplug. He doubled in the 3rd and then stole 3rd base. In the 5th he legged out a triple when the right fielder fell down fielding the ball right near the foul line and wall, scoring on a single hit by Luis Figueroa. At this point I was hoping that he'd hit for the cycle, and he nearly hit a home run in the 7th, but only got a ground-rule double. Reading the scouting report on Sox Prospects, they say he has minimal power. I wonder if it's something that he's been able to improve since then, because he looked like a force yesterday. He also made a fine defensive play in the 7th, fielding a ball that was sharply rapped by Ernie Young and then hustling to 2nd base to get the force out.

Approaching McCoy from the $2 a spot parking lot.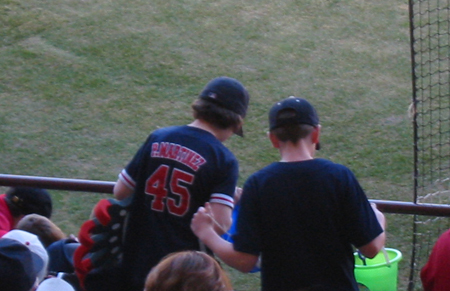 Fishing for autographs.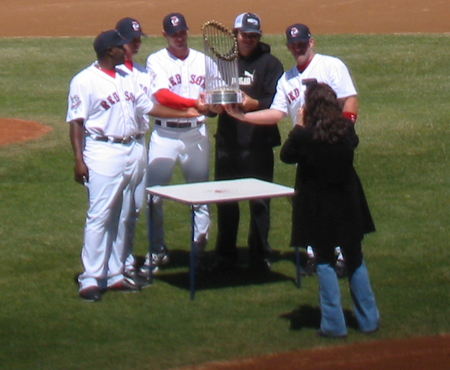 Martinez, Malaska, DiNardo, Alvarez, and Youkilis with the trophy. Please move, photographer person!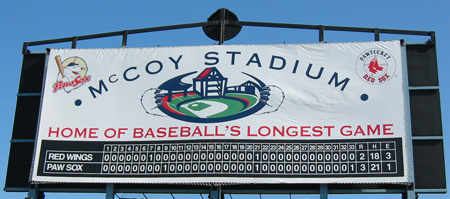 Imagine the scorecard for this one. You'd need 8 sheets if they only held 10 innings per sheet. The International League hosts a page showing the particulars of the game.