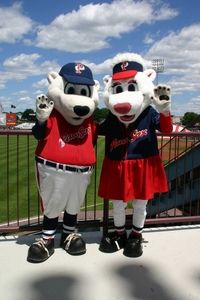 The jet set life of baseball mascots may seem like a world of luxury and glamor. I sat down with Paws, the mascot for the Triple A affiliate Pawtucket Red Sox, and his wife, Sox, to learn the truth about life behind the masks. They dispelled some of the myths built around being baseball novelty acts and offered their views on recent mascot happenings.
EE: Paws, you're coming up on your 6th birthday this season. That's 18.849 in human years. Tell me, what changes have you seen in your time?
Paws: Well, I has brought on to make McCoy Stadium and the Pawsox an affordable, family-friendly venue. With the skyrocketing prices at Fenway Park, Ben Mondor wanted to give families a price-conscious alternative. They have the Longest Game thing going, but they wanted something the kids could relate to, and that's where we come in.

EE: How did you two meet?
Sox: I had been with Norton over at the Roger Williams Park Zoo for a while, but that relationship was going nowhere. Finally, April last year he just up and moved to Detroit. He had this "founder bear" obligation, so he's very much in demand. Then Paws came along...
Paws: And I gave her the pawticular attention she craved.
Sox: Yep, I really have to hand it to him, I was pawsitively smitten.

Sox and Paws: (Laughter)
Sox: I love puns.
EE: Apparently. So, who are some of your mascot heroes? Characters that you look up to?
Sox: You know, I don't think mascots should be idolized. We put our pants on, well, those of us who wear pants, the same way any other person, or anthropomorphic creature does. And that's one leg, or equivalent appendage, at a time. I don't want to be put on a pedestal. I'm just here to help promote the brand and maybe sell a few pieces of memorabilia.
Paw: Yeah, you look at Wally, how the fame has worn him down. It's sad. He had it all, really, but it was empty. Private jets, fancy food, the nightlife. He could look at any woman, mascot, human, whatever, and know that he had her. All it took was a little eye contact and a suggestive head tilt. But in the minor leagues, you never get blinded by the spotlight. You bring the fans into the spotlight with you.
EE: The most difficult part about being a mascot?
Paws: Making little kids cry. I was talking to one of the players about this one time, that tall guy.
Sox: Dan something...? Don McCaffrey...?
EE: Dave McCarty?
Paws: Yeah, yeah, him. My overly large head and outsized eyes are supposed to inspire the nurturing instinct in humans, acting on people's urge to adore neotenic beings. But little kids just see me as a competing threat for their parents' attention. It's a double-edged sword. Dave's a weird fellow, isn't he?
EE: Just a bit. Well, thanks to both of you for spending time with me today. Best of luck with the rest of the season.
Paws: It was our pleasure.
Sox: Not a problem. And don't forget the fireworks spectactular on Friday, April 29th following our game against the Red Barons!