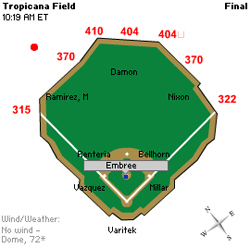 Game 17: April 22, 2005
Red Sox (10-7), 4
Devil Rays (7-10), 5
L: Alan Embree (0-1)
H: Travis Harper (3)
BS, W: Danys Baez (1, 3-0)
This is the kind of game I hate to recap.
I can go over all the great things that happened, like the Red Sox resurgence in the top of the 9th inning. That started with Trot Nixon getting a walk after a 7-pitch at bat against Baez. Mark Bellhorn then hit an RBI double to atone for his error in the 3rd which led to 2 runs, one of which was earned. With Bellhorn on 2nd base, the Red Sox played a bit of small ball.
Ramon Vazquez sacrifice bunted over Bellhorn to 3rd base, enabling the 2nd baseman to score on Johnny Damon's ensuing single. This is exactly how I think small ball should be used, especially with a potent lineup like that of Boston's. In late-game situations with a tight score, I don't disagree with suffering an out to move a runner into better position to score.
But it ended with one pitch from Embree to the pinch-hitting Eduardo Perez. It was a massive home run, at least, not some barely fence-clearing fly ball. I'm surprised MLB Gameday could properly place the red dot within the confines of its spray chart. Tampa Bay has so little to cheer for, we'll give them this.