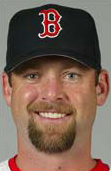 Out beyond ideas of wrongdoing and rightdoing, there is a field. I will meet you there.
Jalal ad-Din Rumi
You might think of me as simply an outstanding first baseman, especially after that play I made earlier this week, but I also pride myself in my outfield prowess. Whenever I'm prowling the edges of the field robbing hitters of extra base hits, the other guys ask me what the heck I'm doing out there. So I tell them I'm using a combination of the linear optical trajectory (LOT) and optical acceleration cancellation (OAC) models of tracking moving objects.
Some of my teammates think I'm crazy for using both LOT and OAC, because I guess they are proponents of a simplified adoption of either one or the other. I then decided to attempt to prove that my tactic was correct. I had offered to take part in this April 2002 study, but after I had sent a dozen or so e-mails to Dennis Shaffer and Michael McBeath, the authors, with some of my suggestions, they regretfully informed me that they had all the participants they needed. It was a great effort, however, only to be refuted by a competing faction with this comment in December of 2002.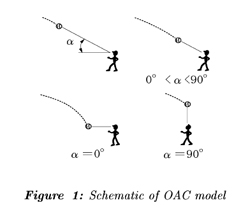 Fielders using the OAC model supposedly have a two-step approach. They first align themselves horizontally with the path of the ball, then they run towards to ball at a speed that makes it appear as if it were rising at a constant rate. For this approach to be successful, fielders need to adjust to the correct speed to cancel the ball's acceleration. Run too slowly and the ball will appear to slow down and land in front of the fielder; too quickly, and the ball seemingly speeds up and land behind the fielder. The essential assumption behind this method is that people are adept at discerning acceleration, which is actually not the case. In practice, the most difficult ball to field is one hit directly at a fielder, while the OAC theory presumes that it would require more effort to run laterally to the flight of the ball. I'll be the first to tell you, and I'm not alone among outfielders, that it is actually easier to track down a ball from the side.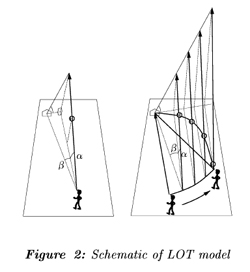 This brings us to the LOT framework. LOT assumes that a fielder uses the differential between straight and curved trajectories rather than changes in speed. The LOT theory is based on evidence that people are better at determining minute changes in optical curvature. When I'm out in the field, the ball looks like it moves in a straight line and at a constant speed relative to the background scenery. To counteract this, I would run on a curved path to accommodate the curvature of the ball's trajectory.
There are limitations to using only one of the methods at a time, so, like the best outfielders, I use an amalgam of both strategies. Especially on windy days or balls hit with a lot of spin, where the trajectory of the ball is less predictable, both modes should be employed.
Every Friday, Dave McCarty will join us to discuss a topic of interest to him and probably no one else but the author of this site, and this week perhaps Ultimate aficionados like NU five oh who likely use a synthesis of LOT and OAC when playing.