Hand Jive
Only Nixon could go to China, and only Merriam School 5th and 6th grade students in Acton, Massachusetts can heal the rift between the Red Sox and the Yankees. Teacher Ed Kaufman says, "Kids were intimidated; they were afraid to wear their Yankees hats." Good. They should be scared. I would like to know at what point these kids will have their spines reinserted. Hopefully, it will be before they enter the real world.
The other funny thing is that these kids made a propaganda-ridden PowerPoint presentation and sent it to both clubs. Soon these tykes will be braiding daisy chains and singing about how they'd like to buy the world a Coke. Or writing insidious pop-up ads urging people to love their neighbors and letting bygones be bygones.
Check out Rule 3.09. The players would be a breaking a rule by shaking hands. What kind of example would that set? "We look up to you. We follow your example," say the children in their presentation. How about some better roles models, like Daw Aung San Suu Kyi or Rigoberta Menchú Tum?
Homely Girl
Fenway used to be so lonely. You're a beautiful ballpark, homely girl. The Red Sox are now committed to staying with Fenway. And why not? Sure, there were a few rough years there with that temperamental gal. But, treat her nice, fix her up some, and she'll come around.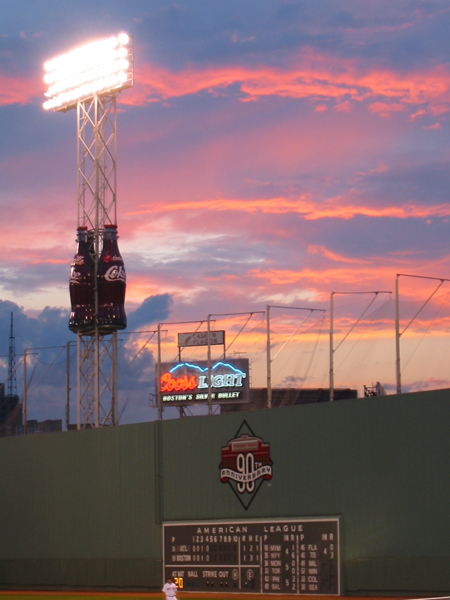 I'm ruined for other parks. Fenway was my first baseball park. I took this picture at an interleague game against Atlanta on June 28, 2002. John Burkett started and lasted seven innings, leaving with the score 2-2. The Red Sox lost that game 4-2, but I'll remember Tom Glavine throwing in the visitor's bullpen, soaking in the ambiance. Since he's from Billerica, many people drifted by to see him. You can come home again. In fact, you don't ever have to leave, especially if that place is called "Fenway."