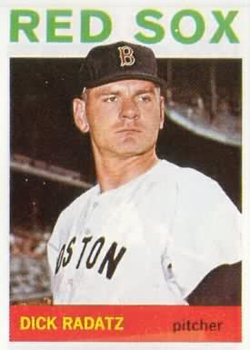 Name: Richard Raymond Radatz
Called: "Dick Radatz," "The Monster," "Moose"
Born: April 2, 1937
Hometown: Detroit, MI
College: Michigan State
Major League Debut: April 10, 1962
Final Game: August 15, 1969
Died: March 16, 2005
Height: 6'5"
Weight: 235 lbs
Position: Relief Pitcher
Bats: Right
Throws: Right
He got "The Monster" nickname from Mickey Mantle. Look up the box scores against the Yankees to see how he did against Mantle, and you'll see why.
Requiescat in pace.