Mean Acres is the place for me
Bronx livin' is the life for me
Shots spreadin' out so far and wide
Keep Manhattan, just give me some place to hide
New York is where I'm going to stay
I get annoyed without high pay
I just adore a penthouse view
Schilling, I love you, but give me River Avenue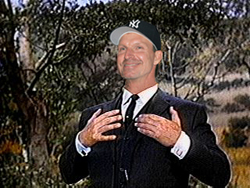 The whores!
The scores!
Cut hair!
Times Square!
Hello to strife
Good bye, desert life
Mean Acres, I are there
With apologies to Vic Mizzy.
This is sort of Dirt Doggish, isn't it? Sorry about that. Hey, I also heard that Randy Johnson is getting into the culture that New York has to offer. He likes Christo and Jean-Claude's The Gates because the orange color reminds him of high visibility hunting gear.