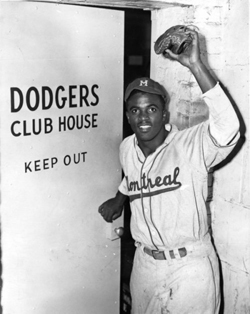 This past Thursday, Jack Roosevelt Robinson was posthumously bestowed the Congressional Gold Medal, the nation's highest civilian award. Jackie Robinson is only the fourth athlete and the second baseball player to be so honored; the others were Jesse Owens, Joe Louis, and Roberto Clemente.
The Red Sox have a shameful historic connection to Robinson. On April 16, 1945, the team held a tryout session with Robinson and two other Negro League players, Sam Jethroe and Marvin Williams. It is alleged, but not confirmed, that it was Tom Yawkey himself that yelled, "Get those niggers off the field" during the sham event. At any rate, only Red Sox management was in the stands. It was clear to Robinson that he and his fellow Negro Leaguers were there just to placate a Boston City Council decree and the Red Sox had no intention of integrating the team. Just eighteen months later, Robinson signed with the Brooklyn Dodgers.
Robinson would likely be rendered ineligible for the award by recent House-approved legislation that restricts posthumous medals to a 20-year period beginning five years after a person's death and also limits the award to two medals a year. With these possible restrictions impending, two Massachusetts legislators, Senator John Kerry and Reprepsentative Richard Neal, co-sponsored the bill to award Robinson the medal. The John W. Henry ownership group actively worked with Kerry and Neal to pass the Robinson bill. Gordon Edes of the Boston Globe reports that George Mitrovich, a former press aide to Robert Kennedy and a close friend of Larry Lucchino, also contributed to this effort.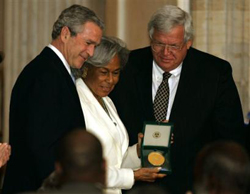 Under the Henry ownership group, a much coveted and long awaited championship came to New England. But more importantly, while bringing baseball and commercial success, the group has acknowledged their organization's previous shortcomings and have actively made amends for the racist and intolerant regimes of the past. The group has a multi-layered approach to promoting diversity, including: "trying to find a black or Hispanic multi-millionaire to join their new ownership group; starting a scholarship program for city kids; doing business with black radio stations; and organizing visits by Red Sox officials to black and Hispanic civic and religious groups."
In 2002, Henry stated, "I think we have to make a statement not just in baseball but in our community that diversity is an issue that hasn't been fully addressed in the past and certainly has to be fully addressed. I think it's important what your actions are. That will really define the franchise going forward." Henry has largely abided by his statements.
For my part, I think Henry and the Red Sox could exert more pressure on their radio broadcast partner, Sports Radio WEEI, to diversify their programming. Tiny steps forward are made, with Michael Holley named as co-host for the 10 AM to 2 PM show with Dale Arnold. I understand that programming is reflective of audience demographics, but WEEI assumes that only white males listen to its broadcasts. Wouldn't more African Americans, Hispanic Americans, Asian Americans, and women listen to WEEI if they felt the were being represented? Isn't it in the station's best interests to broaden their audience base rather than merely cater to a vociferous subset of the population?
I'm not saying that WEEI should be NPR, as the topic is "only" sports. But we see the impact that Robinson had and continues to have on American civil rights history and he was "only" an athlete. Participation in the discourse on sports and society, much of which takes place on talk radio, should not be limited to those of a particular race or gender.