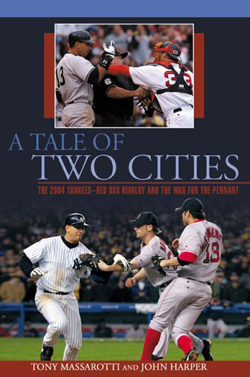 Full title: A Tale of Two Cities: The 2004 Yankees-Red Sox Rivalry and the War for the Pennant
Authors: Tony Massarotti and John Harper
Publisher: The Lyons Press
ISBN: 1592287042
Two beat writers for the rival teams, Tony Massarotti for the Boston Herald and John Harper for the New York Daily News, collaborate to chronicle the 2004 season. Despite the reputation of the newspapers they write for, both reporters outstrip their milieu with their achievements. Massarotti was voted the best sportswriter in Massachusetts by the National Sportscasters and Sportswriters Association in 2000 and was a finalist for the award in 2003. Harper has co-authored several books on both the Yankees and the Mets and has covered sports for over twenty years. Both are exemplars of local kid growing up to cover the teams of their childhood.
Unlike Faithful, the Stephen King and Stewart O'Nan book, A Tale of Two Cities succeeds because Massarotti and Harper have greater access to and insight on the inner workings of the clubhouses as well as an astute eye (not always objective) to observe the foibles of players, managers, and executives. Since I'm a fan like King and O'Nan, their viewpoint (other than the fact they had much better seats and went to more games) isn't necessarily very different from mine. Being with the team almost continuously enables Massarotti and Harper to witness firsthand incidents that would otherwise go undocumented.
One occurrence that has gotten publicity because it was excerpted in the Herald is the clash between Shonda Schilling and Johnny Damon's then-fiancée, Michelle Mangan, regarding the good luck scarves the former had distributed amongst the players' significant others. There are many other peccadilloes recounted that I'll leave to the audience to uncover for themselves. Even if you were an ardent follower last season, you will still probably discover something new in this book.
Also of note is seeing the series through their lenses lightly tinted with bias. The Red Sox took an early lead in the season series, winning six out of seven games, including a sweep at Yankee Stadium. Massarotti mocks the Yankees' excuse of jet-lag, pointing out it had been three weeks since since they had returned from Japan. Meanwhile, Harper states unironically that the "jet-lagged ballclub [was] still shaking off the cobwebs from the season-opening trip to Japan."

The temptation for newspaper writers would be to rehash the work they had already done all season. Fortunately, neither succumbed to this facile path. Instead, the point/counterpoint structure of the book lends itself to lively and well-informed banter between two reporters that, for this occasion, decided to be fans first. Fans fortunate to have an enviable vantage not only at the games, but in the clubhouses and front offices as well. I give this book four press credentials out of five.