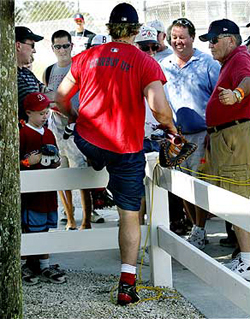 From the Boston Globe, we get this tantalizing snippet: "Kevin Millar may appear on an episode of Bravo's "Queer Eye for the Straight Guy." Millar said he's working on a date for the taping, which would be done during spring training, and hopes to persuade a few teammates to participate." With Curt Schilling's recent appearance on "Celebrity Poker," Bravo is looking more like NESN2.
The picture to the left is from this spring training. Carson would tell him to get rid of the "Cowboy Up" thing, since that's so 2003, losing-Game 7, already. I don't think he chews tobacco, but if he does, I'm sure the Fab Five would try and break him of that habit, especially Ted and Jai. Kyan would recommend some strategic tzujing, and prohibit him from ever growing the Amish beard again.
I'm not a devotee of the program, but on nearly every episode I've seen, I'm amused when the rest of the gang takes the star of the show shopping, wine tasting, and spa-ing, leaving Thom back at the ranch (and this could be a literal ranch, knowing Millar) to work his tuchis off. I've watched him landscape, paint, remove wallpaper, and clean the scum off bathtubs. This man is not adverse to manual labor, at least in front of the cameras.
The online recruiting form states "NYC or LA area." So, why aren't the New York City or Los Angeles clubs getting on board with this? Does it fly in the face of the Yankee credo? Or is there just not much work to be done with Jeter or Rodriguez? The Fab Five probably call them for tips.