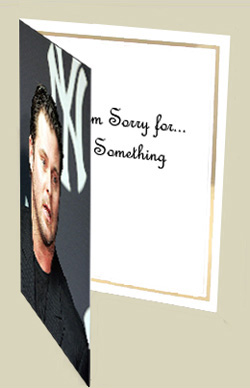 Following Jason Giambi's press conference on February 10th at Yankee Stadium, he and agent Arn Tellem announced a partnership with Hallmark for a new line of apology cards. Giambi stated that "I'm sorry, but I'm trying to go forward now. Most of all, to the fans, I'm sorry. I know it's going to be hard, and I understand how they feel." Giambi is taking this sense of simpatico to a larger audience by helping pen prose for a series of cards that feature him.
"These days people are so easily offended by any slight," said Tellem. "We spoke with Hallmark and we found that the public is clamoring for a flexible approach to saying sorry. And Jason is just the man to symbolize this new trend."
Some of the messages reflects thoughts from Giambi's recent equivocations, like "I'm Sorry for... Something" or "Saying Sorry Isn't Easy When There's Legal Matters and You Can't Go Into Specifics." However, Giambi plans to eventually add more tangible sentiments, like "I Apologize For Being the More Talented Brother (Or Rather, For Having a Better Pharmacist)" and "I'm Truly Contrite for Being a Distraction in the Clubhouse."
Prices for these cards start at $2.99, and will be found at all MLB ballparks this coming season.