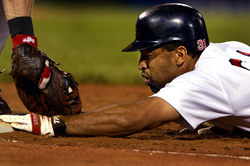 Chris Snow of the Boston Globe continues to impress with this article today on the strategy to squelch stolen bases in the upcoming season. Looking back at 2004, the Red Sox allowed the most steals (123 bases) at the highest success rate (79.9%) in the major leagues, and Jason Varitek ranked last in throwing out runners attempting to steal. These alarming statistics, along with their 16-18 record in one-run games, combine to make a compelling argument to improve their methods of keeping runners stationary.
Terry Francona and Dave Wallace have three criteria to track progress: time to plate, varying checks on the runner and pitch timing patterns, and not altering pitches with men on base. All are more easily said than done, particularly the last point. Certain pitchers get spooked and distracted with men on base, and the quality of their pitches decreases drastically with the slide step. Frank Castillo and Derek Lowe immediately spring to mind, and fortunately neither are with the team now.
In a league and era where most of the emphasis is on power hitting and pitching, I enjoy seeing attention paid to nuances. The interplay between runners and pitchers is one of my favorite aspects of the sport. Often, it's extremely tiresome on television. In live games, though, where you can look at whichever part of the field you want, the throws to first on a base-stealing threat can be riveting. In person, you can observe the defensive shading as well, another under-appreciated facet of the game.
Something that Jerry Remy always postulates is that teams that don't steal are more likely to get stolen on. Since we're not hearing about a plan to improve the team's stealing success, I'll be watching to see how Francona and Wallace's tactics play out this season.