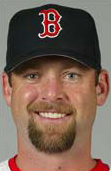 It's been fun down here in Ft. Myers, but if I work out too hard, I get winded and start feeling chartreuse.
That doesn't make sense you say? Well, to a unique group of people called synesthetes who have oddly entwined perceptions, that statement could be true. This condition, called synesthesia, causes a person's sense of hearing, touch, taste, and smell to be associated with color. Although once considered an overactive imagination, this has an actual basis in neurology. Neurologists theorize that we are all born synesthetes. However, in the course of normal development, people's neural connections gradually process sensory inputs into more and more discrete categories that eventually become the five senses. In synesthetes, it is believed that the separation of senses is not completed. So, each letter of the alphabet is tangibly associated with a color, or chicken tastes like chicken, but also like puce.
All of my teammates are just as fascinated by synesthesia as I am. Why, just yesterday I think I diagnosed Jason Varitek as synesthetic. I asked him if he could smell Alex Rodriguez's fear at the plate, and he said, "Yep, by the blue of his lips I can tell he's scared."
Well, I hope you enjoyed my first appearance here. I certainly did, and I'll be here before next Friday. I can't say much more than White House visit... live.
Every Friday, Dave McCarty will join us to discuss a topic of interest to him and probably no one else but the author of this site.