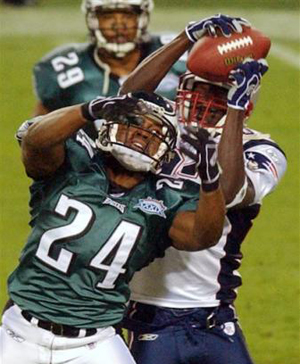 La Agonía regroups over the city of Philadelphia with the New England Patriots defeating the Eagles in Superbowl XXXIX.
Deion Branch (shown here making an amazing catch) wins MVP of the game. Looking over his particulars, can you believe he is only 5'9"? He is the typical Patriot player who proves his mettle through preparation and results.
I have to admit to being moved by the group embrace of Bill Belichick, Romeo Crennel, and Charlie Weis. The coaching staff that founded a dynasty will be no more. This is one football offseason that could rival baseball's hot stove, since the team has to regroup and put new coaches in place.
But, until then, congratulations to the 2004 NFL Champion Patriots!
(In da postgame interviews, Christian Fauria stay wearin' all kine leis li'dat. Stay cuz his wife's muddah from Hawai'i. Cool, yeah?)