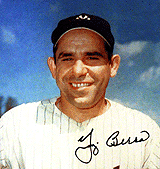 Someone hold me back before I attain Yogasm. We should point out that he wasn't even the correct answer for the definition of "Yogasm." There are at least eleven catchers I can think of more likely to induce sexual ecstasy than Yogi Berra (and the list even includes the deceased):
Carlton Fisk (who tied for the lead in triples in the AL in 1972, according to my handy Red Sox Page a Day Calendar)
Jason Varitek (is there anything more alluring than this?)
Kelly Shoppach (sending a little love to a Sox prospect)
Paul LoDuca (admirable for his hustle, which may translate to other areas)
Roger Bresnahan (his Hall of Fame plaque doesn't do him justice)
Josh Gibson (he would have dominated baseball in his time)
Catcher I had a crush on (reigned supreme in Little League; name is lost in the mists of purposeful amnesia)
Craig Biggio (is being singled out by Bill James akin to winning the Best New Artist Grammy?)
Johnny Estrada (so fetching, like your cousin, Erik. Oh, they aren't related?)
Ivan Rodriguez (made more enticing by his on the mound kisses with Ugueth Urbina)
Javy Lopez (whom I really can't cheer for as he lights up Red Sox pitchers)
And those are just off the top of my head. Berra should feel flattered that his name is even remotely connected with amorousness. He might even be able to parlay this into an endorsement deal. Aren't we all tired of seeing random, anonymous senior citizens bathing on secluded hilltops? Add in a Hall of Fame catcher and his wife to make it all the more compelling.