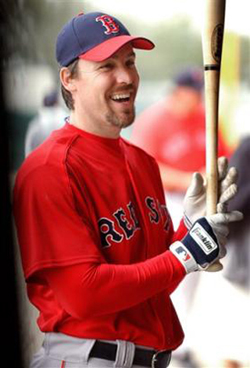 Name: William Richard Mueller
Called: "Billy Ballgame" by his teammates, "The Professional" by Red Sox fan board members, "Yankee Kueller" by me
Born: March 17, 1971
Hometown: Maryland Heights, MO
High School: DeSmet High School
College: Southwest Missouri State
Major League Debut: April 18, 1996
Height: 5'10"
Weight: 180 lbs
Position: 3B
Bats: Switch
Throws: Right
Salary: $2.1M
Memorable Moments: Where to begin? We know them all by rote, but I'd be remiss not to relive some of them again.
July 29, 2003: 9 RBI game. He hit three home runs, including two grand slams, the first player to ever hit a GS from both sides of the plate in a single game.
July 24, 2004: Game-winning home run against Mariano Rivera in the 9th inning.
October 17, 2004: Single up the middle. Tie game. Against Rivera. Wow.
Why this guy doesn't get more attention is beyond me. Some people just fly under the radar, I suppose. I've heard people chanting Pokey Reese, Gabe Kapler, even Freddie Sanchez's name, but never Mueller's. He probably prefers it that way, too.
There's a nice article on him in the Boston Globe today. His goal is to start more games this season than he has in any other. He is the anti-Alex Rodriguez. He is humble. He does not act as if you should be honored to watch him, he is honored that you come to see him play. He is what fans hope players are like in real life. Sometimes, they do make them like they used to.