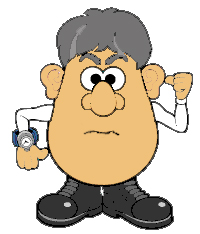 The New York Yankees organization has recently hired new personnel to strengthen its marketing department. Part of that effort appears to be making Yankees owner George Steinbrenner more fan- and kid- friendly.
An EE correspondent has intercepted e-mails between the Yankees, Hasbro, and BJ Enterprises revealing a follow-up product to the heavily anticipated "Darth Tater" item. "Spudbrenner" appears to be an attempt to salvage Steinbrenner's flagging popularity with his fanbase. One of the e-mails appears in edited form below:
To: Xxxx Xxxx
From: Deborah A. Tymon
Subject: Project Spud
Date: January 14, 2005 3:55:09 PM EST
Hi Xxxx,
Thanks so much for your comments and suggestions on this exciting new collaboration. The entire Yankees organization is looking forward to unveiling the spudster at one of the Red Sox series, most likely during the May series (27th to 29th). Thanks also for the protoype drawing.

Some suggestions for accessories (What are the manufacturing logistics for these? Could you check with Xxxx?):
NYY cap
Diagram/instructions for the Heimlich maneuver
Checkbook
Michael Kay's lips (can be affixed to posterior; could be problem with removal, however)
Brian Cashman's scrotum
White gloves (similar to Alex Rodriguez's)
Turtlenecks with monogrammed Yankees logo
Hypodermic needles (see Gary Sheffield for example)
I'm nixing the pinkslips, however.
Best Regards,
DAT

Special thanks to BlackJack for the "Spudbrenner" concept.