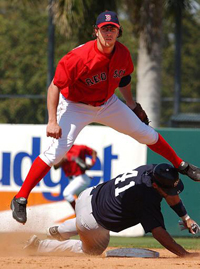 Bronson Arroyo and Mark Bellhorn both signed 1-year deals today, completing the rotation and rounding out the infield.
Saturnine in expression but solid at the plate, Bellhorn achieved .264 BA, .373 OBP, .444 SLG, and 82 RBIs in 138 games last season. He ratcheted up his performance in the postseason to .844 OPS while making key home runs in Game 6 of the ALCS and Game 1 of the WS. His $2.75M contract is a relative bargain considering that, in his position in the AL, he led in OBP and was third in RBI. Hopefully we will hear many more "terrible sounds" (Tim McCarver's description of the home run ricocheting off of the foul pole in Yankee Stadium) in the coming season.
Speaking of terrible sounds, Arroyo will make $1.85M and will hopefully not ask for time out during the season to promote his song with Entrain. I kid; his voice isn't that bad. In 2004 he was went 10-9 with a 4.03 ERA in 32 starts. As the arch-nemesis of Alex Rodriguez, Arroyo has another season to further expose "the best player in baseball" for what he is, and isn't.