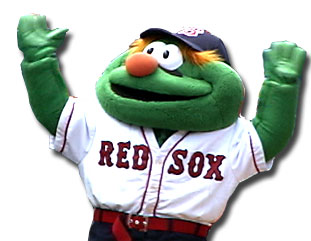 There have been scattered stirrings of new mascots on the horizon for the Boston Red Sox. Wally the Green Monster (pictured left, fending off paparazzi) has been falling out of favor due to some questionable after hours activities. Sox officials have noted his recent erratic behavior, including fisticuffs with Mr. Met (apparently related to extra-marital activities with Mrs. Met) and all-night binge drinking with the impressionable young Portland Seadog mascot Slugger.
"Just look at those bags under his eyes, his green complexion, and continually frazzled expression and you know that things just aren't right," said an anonymous clubhouse worker. "I've tried, we've all tried to get him help, but he has to recognize for himself the downward spiral he is in."
When questioned about the rumors, Wally said, "You would think after all these years of service the Red Sox would respect me. I've been a fan since 1912, and moved into Fenway in 1947. The ownership back them let me do as a please, knowing what I brought to the club. When I finally started making the PR rounds in 1997, I had the world on a platter. But as soon as a fellow hits some rough spots, it's "Bam! Get outta here." I don't know what this Larry guy has planned, but he'll lose a big piece of heart and soul if he gets rid of me." Wally then blinked back tears and shook his head. "As for my fur coloring, I'm Wally the [expletive omitted] Green Monster. Geez, Kermit was right. He was right all along."
Larry Lucchino, president and CEO of the Red Sox, could not be reached for comment.