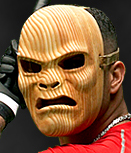 ALBERT PUJOLS: THE DECOYER
PUJOLS'S GAME FACE IS UNRELENTING, LIKE A GOANNA FORAGING FOR TURTLE EGGS. HE IS UNSTOPPABLE, SAVE FOR THE 2004 WORLD SERIES, WHERE HIS OBP WAS A LESS THAN STELLAR .412 AND 0 RBI.


MARIANO RIVERA: THE VOLDO IMPERSONATOR
RIVERA BRINGS OPPONENTS TO THEIR KNEES BECAUSE OF THE HINKY VIBE HIS MASK CONVEYS. IT'S SORT OF PSEUDO-SADOMASOCHISTIC, ISN'T IT? PERFECT FOR GENUFLECTING TO HIS OWNER, BILL MUELLER.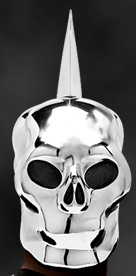 BEN ROETHLISBERGER: THE FROZEN STARE
THE SLICING TOOL ON HIS HEAD IS IDEAL FOR CUTTING THE BURGERS THAT ARE HIS NAMESAKE. THE MENACING METALLIC SHEEN HIDES THE GLAZED LOOK THAT OVERCOMES HIM WHEN HE SEES A PATRIOTS DEFENSIVE SCHEME.


FIND YOUR GAME FACE. And discover which other opposing players the teams of New England own.