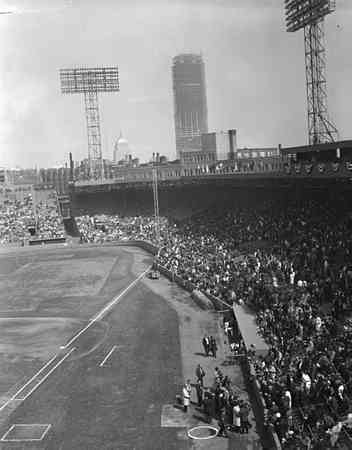 Late last night I was browsing through the Boston Public Library's online gallery of past sports venues called Sports Temples of Boston. I started getting chills as I combed through the images of Fenway Park through the decades.
Ted Williams appears in several pictures. Long, awkward, gangly. It's hard to imagine him being the greatest left-handed hitter ever. One of the photos has him in his akimbo batting stance wearing nothing but his briefs. You would imagine in that more restrained era Williams would be hesitant to pose for such a photo, but, as in other things, he wasn't like those of his time.
There are also some photos of football games being played in Fenway. While I do enjoy that sport, it seemed to border on desecration to me. I am told that Gillette Stadium can accomodate baseball, and I find that similarly unappetizing. The only way football and baseball should be combined on the same field is when members of the World Champion teams make guest appearances.
Many photos are of Fenway teeming full of fans. I thought about the people in the stands, some still with us, most probably not. I wondered if they had children in whom they instilled a love of the game, and the Red Sox. Though separated by time, I felt that kindred sense of being that comes with rooting for the team, our team, reaching across the decades.
Tonight's Red Sox Stories on UPN 38 is about "Tessie," the song that propelled the 1903 team through the first World Series. The modern reworking of the melody carried us through 2004. There are, and always will be, threads of faith, a skein of memory connecting us to the past.