Exit Pokey Reese. He signed a one-year $1.2M with a team option for 2006 with the Seattle Mariners. Mike Cameron was ecstatic for him, telling him "it will be the best thing that ever happened to you." Did Cameron just not pay attention to baseball during October 2004?
Reese quickly became a fan favorite here despite anemic offensive production because he clearly relished playing in front of an energetic and devoted fan base. Having become inured to the booted balls and wild throws of Nomar Garciaparra, Reese's fielding was an antidote to ulcer-inducing unearned runs and errors. His highlights with the team include:
May 8: Inside the park home run in the fifth and a Monster shot in the sixth in this Saturday game against the Kansas City Royals. The Sox go on to win 9-1.
June 14: Astounding catch of Dave Roberts's line drive with 2 on and 2 out in the seventh inning. The Red Sox beat the Dodgers 4-1, and Pedro Martinez says "they should give the win to Pokey."
October 20: Fields a grounder from Ruben Sierra to throws to Doug Mientkiewicz to get the final out of the historic ALCS against the Yankees.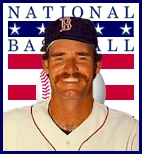 Enter Wade Boggs. Boggs is the 17th player who played a large part of their career with the Red Sox to be inducted into the National Baseball Hall of Fame, and was voted in with 91.9% of the vote. He is listed as the number 4 third baseman of all time by Bill James, and was American League batting champion five of his 18 seasons. The induction ceremony will be on July 31st. No word on if Margo Adams will attend.