Shane Victorino entered the batter's box in the third inning with two out and the bases loaded. The day before the outfielder had won the Gold Glove, beating out Nick Markakis of the Orioles and Josh Reddick from Oakland. He was thankful for the honor but was frustrated offensively of late (along with every other hitter besides David Ortiz). Thus far in the Fall Classic Victorino was hitless and ailing. He was pulled from the lineup in Games 4 and 5 due to back spasms.
When the local nine returned to Fenway, John Farrell dropped him from the second slot to the six-hole. He was back in a familiar park and situation, but which Victorino would swing the bat? The one who had been 0-for-10 or the one who sent a grand slam into the Green Monster seats against the Tigers in Game 6 of the ALCS?
It didn't matter to Victorino where he hit in the order as long as he was hitting. He didn't sulk but seized the opportunity. His high fly ball didn't find the seats this time but it caromed high and far enough off the left field wall to drive in three runs. Three little birds, pitch by the doorstep of Boston's third World Series championship in the last nine years.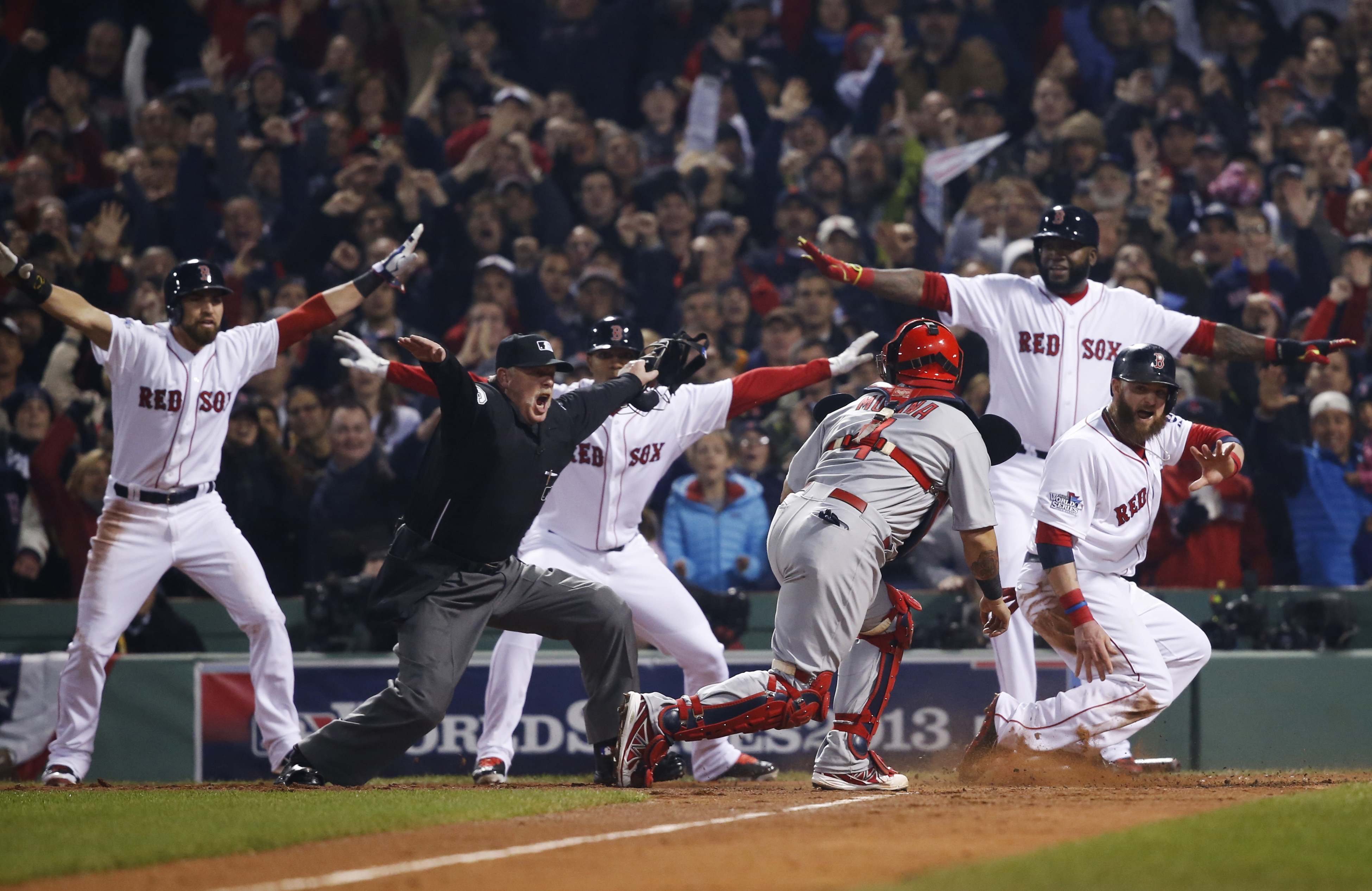 Dustin Pedroia beat out Robinson Cano and Ben Zobrist for his Gold Glove award. He flashed the leather in the first inning by fielding Carlos Beltran's sharp grounder into the shift on an in-between hop. It demonstrated the precision of the Red Sox's advance scouting and Pedroia's ability to execute his team's plan.
John Lackey was a study in redemption, the story of this club's atonement writ small. For his 6⅔ innings of work with a single base on balls and five strikeouts he earned an historic win. He became the first player to close out the World Series with two different teams.
Lackey convinced Farrell to leave him in to face Matt Holliday. "This is my guy," he told his skipper. He then surrendered his only walk of the game to load the bases.
Two years ago Lackey was labeled as the cause of the rancor in the clubhouse. This season he was key to the team's rejuvenation. In 2011 it wouldn't surprise me if fans flipped the starter the bird. But this year in the clinching game of the World Series he tipped his cap. "Gods do not answer letters," wrote John Updike of a Red Sox legend. During his champagne-soaked interview in the clubhouse a reporter kept trying to ask him about his past actions and if that was what motivated him.
He refused to answer the question. Even the flawed do not need to answer to the unlettered.
World Series Game 6: October 30, 2013
St. Louis Cardinals
2-4
1
L: Michael Wacha (1-1)
2B: Matt Carpenter (1)

Boston Red Sox
4-2
6
W: John Lackey (1-1)
H: Junichi Tazawa (2)
2B: Shane Victorino (1), Jacoby Ellsbury (1)
HR: Stephen Drew (1)